Tribeca Interview: David Darg, Bryn Mooser And Olivia Wilde Of Baseball In The Time Of Cholera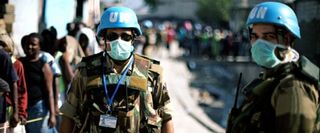 David Darg and Bryn Mooser are busy guys. Not only are they active aide workers in Haiti, continuing in the effort to restore the country after the devastating 2010 earthquake, but with the help of executive producer Olivia Wilde, they're busy spreading the word through short films, too.
At first, the trio wanted to focus their Sun City Picture House follow-up on the rise of a local little league baseball team they started, but in the midst of that, one of the young player's mother's life was taken by the Cholera outbreak. While Joseph and his passion for baseball is still at the heart of this short film, they felt the need to provide a more expansive view of the Cholera epidemic in Haiti as a call to duty, in hopes the UN will take responsibility for the terrible situation.
After premiering Sun City Picture House at the Tribeca Film Festival last year, Darg, Mooser and Wilde are back to give Baseball in the Time of Cholera the same honor. All three were in town to talk about their exceptionally quick turnaround, the shooting process, plans for their first feature and much more. Check it all out in the video interview below and head over to www.UNDeny.com to support the effort to pressure the UN to claim responsibility for the 500,000 Haitians infected and 7,000 lives lost. Baseball in the Time of Cholera opens in LA on May 4th at the Laemmle's Noho 7.
Staff Writer for CinemaBlend.
Your Daily Blend of Entertainment News
Thank you for signing up to CinemaBlend. You will receive a verification email shortly.
There was a problem. Please refresh the page and try again.