Tribeca: Keira Knightley And Mark Ruffalo Charm In Music-Fueled Romance 'Begin Again'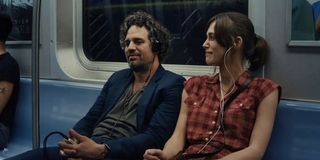 Irish writer-director John Carney snared the world's attention in 2006 with the breathtakingly poignant musical Once. Featuring muddy digital video and musicians who were largely unknown, this tender love story sparked with audiences around the world, and went on to win countless fans, as well as an Academy Award for Best Original Song. Since then, Carney has made a pair of Irish offerings (Zonad and The Rafters) that made no impact Stateside. But with a rehashing of similar themes, and a smattering of stars he's won America's attention once more with the Tribeca Film Festival's closing night film, Begin Again.
A light-hearted drama punctuated by pop songs, Begin Again stars Mark Ruffalo as Dan, a washed up, oft-drunk record executive, and and Keira Knightley as Greta, a principled singer-songwriter. Each is struggling to make sense of love, life and the music business in New York City. She doesn't want a record deal. He can't offer her one. But he believes in her music, and together they decide to record a low-budget album produced live on the streets of New York City. With a roughly hewn band, they travel from the Empire State building, to subway platforms, to Central Park, and a barrage of other easily identifiable Manhattan locations, all to make an album that might move people.
It's a romantic premise, and Keira Knightley and Mark Ruffalo share an electric onscreen chemistry. But Begin Again doesn't live up to its potential, being too polished to sell the idea of raw but inspired art. For one thing, the tracks that are meant to sound as if they are recorded amidst all the mayhem of New York sound carefully mixed with just the lightest, most carefully selected elements of ambient sound blended in. It makes the music prettier, but not as exhilarating or liberated from conventions of perfection as the characters seem to believe it to be.
Adding to the soundtrack of Begin Again is Adam Levine of Maroon 5 fame. He plays Greta's cad of a boyfriend who went from being a supportive partner to a douchey, crowd-pleasing, beard-growing rock star. His music is meant to represent how soulful songs might be hollowed out to appeal to the masses. But frankly, I couldn't tell the difference between soulful Levine and the "soulless lout" were it not for Keira Knightley's disapproving frown.
All in all, the music is fine, but lacks the tenderness and earnestness that Once's soundtrack boasted. It's impossible not to compare the two. Music aside, Begin Again revisits Once-like themes of wounded lovers, life-changing friendships, and how music can heal us. With the better quality cameras, the more famous performers, and the general gloss applied to the proceedings at every turn, Begin Again is exactly what'd you'd expect if someone said, "The maker of Once goes Hollywood." That's not to say Begin Again is bad; it's just not especially original or inspired, more dedicatedly middle of the road. This is exactly the kind of inoffensive and pleasing movie that would make for a nice afternoon out with your mom.
By far the film's strongest element is the pairing of Ruffalo and Knightley. They are both in character territory they are well acquainted with, she playing a headstrong tomboy, and he playing a self-destructive (and yet sexy) mess of a romantic. For all its flourishes of celebrity cameos (Mos Def, CeeLo Green), appealing pop music, and touristy view of New York City, Begin Again is at its most interesting when its just Keira Knightley and Mark Ruffalo talking. They share an ease and enjoyment with each other that is compelling. It's a shame Carney didn't trust in this dynamic enough to not overburden the film with other flare.
All in all, Begin Again's story is charming and sweet. It has lovely supporting turns from Hailee Steinfeld, Catherine Keener, and James Corden. Its music is nice enough but forgettable. It's central relationship is intriguing, but bumbles into a climax that is at once pretentious and hypocritical. (If you ask for a massively famous person to kick off a "word of mouth" marketing campaign, you're sort of cheating, right?) Ultimately Begin Again's biggest fault is that it is nowhere as wonderful as Once, which felt like a miracle for its profoundly believable love story and unforgettable songs. Once was lightning in a bottle. Begin Again is cute.
Your Daily Blend of Entertainment News
Staff writer at CinemaBlend.