Can A Song Save Your Life? Now Titled Begin Again, Will Close Tribeca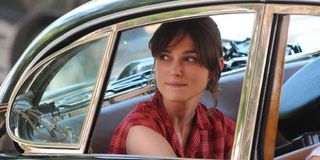 Can A Song Save Your Life? seems like it's got to be worth a watch or two, right? Teaming Mark Ruffalo and Keira Knightley, the New York-set romantic musical is from director John Carney, the creator of Once, and has been anticipated for quite a while since a festival run last year. The Weinstein Company had the rights to the Judd Apatow-produced movie and intended to distribute in July. But now… everything's changed!
The title has been changed to sadly more-generic Begin Again, a fix that coincides with the picture's slot as the closing night film for the Tribeca Film Festival according to THR. The film depicts the union between Ruffalo, a disillusioned music executive, and Knightley (originally Scarlett Johansson), a promising young ingénue. When Knightley and her boyfriend (Adam Levine) break up due to his infidelities, she finds herself directionless, until Ruffalo's disgraced exec picks her up and reinvents her as a potential music star.
Reviews coming out of the Toronto International Film Festival were positive but mixed. Eric Kohn of Indiewire claimed, "it works significantly better than more mainstream productions because of the legitimacy its actors bring to the project. Knightley's sorrowful state plays nicely off Ruffalo's sputtering showbiz enthusiasm. His character's own background would strain from contrived ingredients if it weren't so credibly embodied." And Peter Debruge of Variety says, "Precious few music producers seem to pay attention to lyrics anymore, but the words matter here, often more than the dialogue itself (some of which Carney allows the actors to improvise, to mixed effect, clearly taking a cue from Apatow) as the songs say what the humans sometimes can't." Though Laremy Legal of Film.com said that it, "ends up playing like an endless and quickly tiresome string of movie montages."
It's a high profile acquisition for the Tribeca Film Festival, which garners its share of attention but has yet to really develop an identity. Often, the bigger films at Tribeca tend to be also-rans, dubious productions that get dumped onto DVD quickly – in fact, one of them ended up being Carney's Zonad, a sci-fi comedy that didn't even earn a theatrical release. Meanwhile, there remains no distributor for Carney's The Rafters from a couple of years back. At least Carney fans will always have Once, the Oscar-winning romance that became a popular Broadway play and musical sensation but, when you pop in the DVD, remains a small, heartbreaking film of immense power.
Your Daily Blend of Entertainment News
Thank you for signing up to CinemaBlend. You will receive a verification email shortly.
There was a problem. Please refresh the page and try again.