The Triple 9 Red-Band Trailer Is Star-Studded And Absolutely Brutal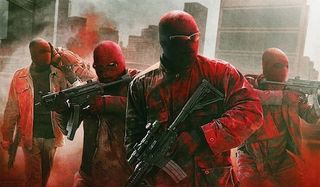 As a filmmaker, John Hillcoat is not prone making happy-go-lucky movies. This is the man behind the post-apocalyptic bummer The Road, the gritty western The Proposition, and the bootlegging drama Lawless. Now he's bringing his bleak aesthetic to the cop drama with Triple 9, and the new red-band trailer shows off a star-studded cast and a brutal, vicious sensibility.
When they call this new trailer from Yahoo "red-band," they certainly mean it, and they sure as hell earn that designation. Even though it's only a few minutes long, this is not for the faint of heart, and if this is how Hillcoat and company are trying to sell their movie to as wide an audience as possible, you have to wonder what the they left out.
A gritty cop drama is one thing, but this preview of Triple 9 is a whole other level. We're talking severed heads lined up on the trunk of a police cruiser, bullets flying everywhere, and tossing a Ziploc baggie full of bloody teeth at the people you have bound up in the back of your car, presumably to torture at some point. And that's not even taking into account the blood, nudity, and swearing. From what we see here, Triple 9 makes End of Watch look like freakin' Police Academy.
Once you look past the violence and depravity of it all, however, the next thing you can't help but see is the absolutely fantastic cast. The credits include Casey Affleck, Chiwetel Ejiofor, Kate Winslet, Woody Harrelson, Aaron Paul, Gal Gadot, Teresa Palmer, Anthony Mackie, Clifton Collins Jr., and Norman Reedus. It's like a who's who of Hollywood, drawing from the worlds of both film and TV.
Based on a script that recently landed on the Black List, an annual collection of the best unproduced scripts making the rounds, Triple 9 revolves around a crew of corrupt, dirty cops. Blackmailed by the Russian mob, they have to manufacture a 999, which is the police code for officer down, in order to create a distraction to pull off a near impossible heist. They set up a rookie cop to die, but when he foils their plan, it kicks off a hectic, action-packed sequence of events full of violence, betrayal, and revenge. Sounds like a great time to us.
Triple 9 also has some recognizable names working in other capacities as well. John Hillcoat often teams with Warren Ellis and Nick Cave (who wrote The Proposition) for the music, but this time he's going with Atticus Ross, who has collaborated with Trent Reznor on a number of recent high-profile movies, including The Social Network and Gone Girl, both from David Fincher.
Open Road originally had Triple 9 scheduled for release in September, which obviously didn't happen, and now the film has been pushed back to February 19, 2016, though there is no indication of why that move was made.
Your Daily Blend of Entertainment News
Thank you for signing up to CinemaBlend. You will receive a verification email shortly.
There was a problem. Please refresh the page and try again.