True Detective Director Cary Fukunaga Lines Up 'The Black Count' With John Legend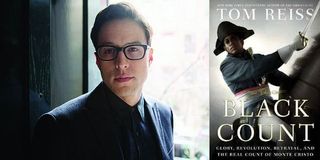 Hot off of the success of his HBO-series True Detective's stellar first season, American director Cary Fukunaga is on the hunt for a new project. He has found it in a biopic championed by Grammy-winning singer-songwriter John Legend.
Deadline reports Cary Fukunaga has signed on to write and direct The Black Count, a depiction of the incredible life and adventures of French Revolution-era General Thomas-Alexandre Dumas. John Legend will produce the period piece picture alongside Mike Jackson under their Get Lifted Film Co. banner. Sony is on board to oversee and distribute.
Fukunaga's source material for this intriguing biopic is Tom Reiss's Pulitzer-winning biography, The Black Count: Glory, Revolution, Betrayal, And The Real Count of Monte Cristo. If it's hero's name sounds familiar to you, that's probably because of the writings of Thomas-Alexandre's son, Alexandre Dumas, who fashioned his father's life into his historical novels The Count of Monte Cristo and The Three Musketeers. While he and his son both had their share of accomplishments, Thomas-Alexandre Dumas came from very humble beginnings. His father was a white French nobleman, but his mother was an African slave of Saint-Domingue (present-day Haiti). Dumas himself was born into slavery, but was rescued from bondage when his father took him to France at the age of 14 to be educated. His arrival in France made him a free man, as slavery was illegal there.
Dumas went on to learn sword fighting, then enrolled in the military. Through the French Revolution, he rose up the ranks and became the highest-ranking person of color in the continental European army. It's a title he holds to this day. Get a glimpse of the grandeur of Thomas-Alexandre Dumas through this portrait painted by Olivier Pichat.
Let's assume that after True Detective set audiences, the web, and critics afire with its heady mysteries, brooding swagger and cryptic style that Cary Fukunaga had his pick of projects. This would speak well for the prospects of The Black Count. Previously, Fukunaga wrote and directed his feature debut Sin Nombre, a Spanish-language drama that launched him and drew acclaim around the world. Then in 2011, he directed (though didn't write) the adaptation of Charlotte Brontë's classic novel Jane Eyre to sweeping praise. Fukunaga is hands down a director to keep an eye on, and if he thinks The Black Count is worth his time, we expect it should come to be something pretty outstanding.
Should that prove true, The Black Count would be a major boost to John Legend's Get Lifted Film Company. The recently founded production house surfaced in 2012 with the prison documentary The House I Live In, and has a documentary (Southern Rite), and a musical drama (Breaking Through) in the works. But at this point neither of these projects seems likely to draw the kind of attention and prestige that a Fukunaga-helmed historical drama will. We'll give you more on this story as it develops.
Your Daily Blend of Entertainment News
Staff writer at CinemaBlend.