Twilight's Ashley Greene Up For Satanic Thriller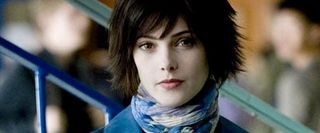 With Breaking Dawn – Part 2 bringing a close to the cross-demographic behemoth franchise that has long dominated the box office, the cast of Twilight is now seeking to shape their careers in the shadows of the characters that made them famous. For raven-haired ingénue Ashley Greene, this means soldiering down a path of horror she began in 2008 with a small role in the slasher comedy Otis. Since then, she's played the lead in the serial killer thriller Summer's Blood and the college-set ghost tale The Apparition, and so her next possible project seems a natural fit.
The Wrap reports Greene is being considered for a role in The Weinstein Company's soon-to-shoot horror feature that was previously titled Kristy, but now boasts the more enticing and twisted title Satantic.
Recently, rising starlet Haley Bennett had signed on to the film, and at the time producers described the flick as a psychological thriller in the vein of Rosemary's Baby that follows a college student who is stalked by a violent gang when she stays behind on her deserted campus over Thanksgiving break. But in this most recent casting update it appears Bennett is not totally alone on campus as the latest plot synopsis mentions "a group of college students" under attack. Of these, one girl (Kristy) leads the charge on their fight for survival and a quest to unmask their mysterious tormenters. As this point it is unclear which of these actresses might play the lead, though her earlier casting suggests it is Bennett.
Scripted by Vanishing on 7th Street scribe Anthony Jaswinski, Satantic will be helmed by Donkey Punch director Oliver Blackburn. Production on the film is slated to begin in New Orleans in mid-November, and will last through much of December.
Staff writer at CinemaBlend.
Your Daily Blend of Entertainment News
Thank you for signing up to CinemaBlend. You will receive a verification email shortly.
There was a problem. Please refresh the page and try again.