Twilight Zone Reboot Getting Script Rewrites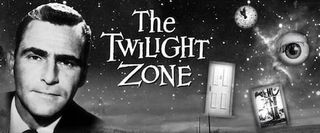 Fairly recently, I rewatched all of Felicity through Netflix. Not having seen every episode during its original run, I didn't realize that J.J. Abrams did a Twilight Zone episode of the drama during its second season. Directed by Twilight Zone's Lamont Johnson and written by Abrams, "Help for the Lovelorn" turned Felicity into an episode of The Twilight Zone, twisting the otherwise reality-based drama about a group of college kids into a bizarre and pretty fantastic tribute to the CBS sci-fi series, and focused on Felicity's attempts to heal her broken heart. Since then, I've wondered if there had been any recent attempts to revive The Twilight Zone on television. I haven't heard anything about a small screen attempt to bring the Rod Serling-created series back to TV, but Warner Bros. is planning to put the concept back on the big screen, and it looks like they found someone to do the rewrites on the script.
Cloverfield director Matt Reeves is already set to direct The Twilight Zone, with Leonardo DiCaprio, Jennifer Davisson Killoran and Michael Ireland on board to produce for Appian Way. And now Variety is reporting that Joby Harold is in negotiations to do the rewrites for the film. Apparently, WB has been trying to find someone with sci-fi experience to get the script ready for shooting. Harold penned the script for the Jessica Alba starring Awake and is among those credited for writing the screenplay for the upcoming Doug Liman directed action/sci-fi film All You Need is Kill.
Variety also points out that, unlike the 1983 Twilight Zone movie, which was broken up into four segments - each with its own director (John Landis, Steven Spielberg, Joe Dante and George Miller) - this film will focus on one central story and sounds like it'll be modeled after the classic TV series. It should be very interesting to see what kind of twisted story they come up with to bend our minds for a TTZ revival. I doubt I'm alone in hoping that it's really (really) good and worthy of revisiting Serling's creation.
And, going back to the idea of bringing The Twilight Zone back to television, perhaps if the film does well, that'll be the next step. Word is, Damon Lindelof is in the process of signing a deal with Warner Bros. TV. Maybe he'll consider tackling a TTZ small screen remake/reboot, or otherwise, something TTZ-inspired in some way.
Your Daily Blend of Entertainment News
Thank you for signing up to CinemaBlend. You will receive a verification email shortly.
There was a problem. Please refresh the page and try again.