Two New Character Posters From Meet The Fockers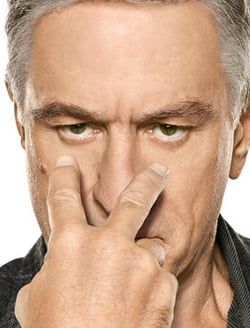 We've know ever since the release of Meet the Fockers that adding sequels to the Meet the Parents franchise was a wholly bad idea. Last week even the studio confirmed this in a short featurette in which they inadvertently admit that the sequels have lost the relatabilty of the original. That hasn't stopped them from cranking out Little Fockers though, which Josh rightly infers has turned into Daddy Day Care.
Regardless of how we feel about it, this movie will probably make a small boat load of cash which will trigger yet another sequel; Prepubescent Fockers perhaps. A couple new character posters have been released, and they're plain Jane like you'd expect from a movie that will be the same way. They play on the same "I'm watching you" joke that's been apparent throughout the series except this time Ben Stiller isn't doing karate into a hidden camera. Same old, same old.
Little Fockers will undoubtedly garner a few laughs and with a cast consisting of Robert DeNiro and Dustin Hoffman it's hard to not be excited. Just don't expect too much this Christmas when it hits theaters. Scope out the posters below or in higher rez over at Yahoo! Movies.
Your Daily Blend of Entertainment News
Thank you for signing up to CinemaBlend. You will receive a verification email shortly.
There was a problem. Please refresh the page and try again.