Tyler Perry's Doing A Madea Halloween Movie, And It Sounds Amazing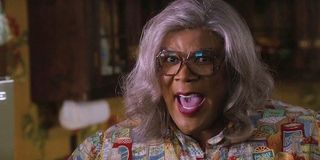 Over the course of her career, Tyler Perry's creation Mabel "Madea" Simmons has had any number of adventures. She's battled spouses, done a stint in jail, gone toe-to-toe with unruly kids, and even celebrated Christmas in her own special way. Her next big screen appearance, however, has the potential to be the best one yet, as Boo! A Madea Halloween is in the works, and she'll battle all kinds of your favorite horror movie monsters, and teenagers. This is going to rule.
Yes, Boo! A Madea Halloween is the full title, which is wonderfully appropriate. Variety reports that production is already underway at Tyler Perry's Atlanta studio, with Lionsgate wanting to get it into theaters before Halloween. From the description in the trade, it sounds like the cantankerous, vindictive older woman is going to have her hands full, as she'll battle all manner of threats. This includes the supernatural variety, like poltergeists, ghosts, ghouls, and zombies, as well as more real-world foes, like killers and disorderly teens running amok in her neighborhood.
I pity any spirits, specters, mass murderers, or bratty kids who run afoul of Madea. They're in for a whole world of hurt they can't possibly begin to comprehend. With her penchant for overreacting to even minor slights, taking the law into her own hands, destroying anything that gets in her way, and generally doing whatever is needed to get the job done, this is going to be a bloodbath. Can't wait to see her take down a zombie. And at least in this situation, her anger management issues won't land her in front of Judge Mablean. Okay, if she vents her rage on teenagers, maybe, but ghost, ghouls, and murderers, probably no.
Boo! A Madea Halloween actually owes its existence to another movie, Chris Rock's 2014 comedy, Top Five. There's a bit about a Madea Halloween movie, and while it was fake at the time, the idea must have stuck around, and now it's on the way to becoming very, very real.
As usual, Boo! A Madea Halloween will star a number of Tyler Perry's frequent co-conspirators, some real, some fictional. Perry's other alter ego, Madea's elderly, lecherous brother Joe will make an appearance, and Cassi Davis will show up as Aunt Bam, as well as a number of others.
Lionsgate and Tyler Perry had a longstanding relationship dating all the way back Diary of a Mad Black Woman in 2005, and the studio released eight Madea movies in the intervening years. Their first look-deal, however, was not renewed last year, so it will be interesting to see if Boo! A Madea Halloween means anything for their future relationship or not. In a press release they do call Perry "a beloved and cherished member of our Lionsgate family," so there's that.
Boo! A Madea Halloween hits theaters on October 21. In my mind I'm already in line.
Your Daily Blend of Entertainment News
Thank you for signing up to CinemaBlend. You will receive a verification email shortly.
There was a problem. Please refresh the page and try again.