Tyler Perry, Neil Patrick Harris And More Confirmed For David Fincher's Gone Girl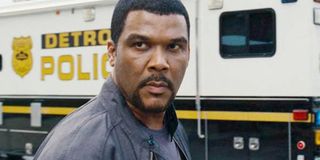 Yes, one of the oddest bits of casting news of recent months is true-- Tyler Perry and Neil Patrick Harris are both working with David Fincher. According to Deadline Perry and Harris are among several cast members now confirmed for Fincher's Gone Girl, an adaptation of Gillian Flynn's hit novel that starts production this fall. Rosamund Pike and future Batman Ben Affleck star as Amy and Nick Dunne, a pair of New York writers whose marriage sours after they move back to his Missouri hometown around the time the economy collapses. Then Amy disappears, and it sure looks like Nick did it-- but Flynn's novel repeatedly pulls the rug out from the reader and makes the situation a lot more complicated than it appears.
Perry will play Tanner Bolt, the lawyer Nick hires after it becomes clear that he's the main suspect in Amy's disappearance. Bolt is described in the book as the "Husband Hawk" or "Dick Defender," the guy who swoops in on those public cases when it seems a husband has killed his pretty wife-- think Scott Peterson. Bolt's description in the book seems to match him to a blow-dried preppy type, someone Affleck himself could actually effectively play, but Perry presents a pretty neat twist, a guy with plenty of charisma and confidence who could easily become a slimy defense lawyer.
Harris's role, also finally confirmed, is harder to describe without spoiling the story's twist, but he'll play Amy's ex-boyfriend Desi, who emerges late in the film. If you've read the book you know he's perfect for it. If you haven't… get ready to see the cuddly NPH in an entirely new way.
Kim Dickens and Patrick Fugit have also signed on to fill major roles, as the two local detectives investigating the disappearance, but the biggest new addition is Carrie Coon as Margot, the twin sister of Affleck's character Nick. A Tony Award nominee after her role in the recent revival of Who's Afraid Of Virginia Woolf?, Coon has little screen experience, which ought to make for an interesting relationship with her mega-famous onscreen brother. Dickens and Fugit are likely to be more familiar even if you don't immediately recognize their names. Dickens is a regular on HBO's Treme who's also appeared on Friday Night Lights and Lost, and Fugit is most famous as the kid hero in Almost Famous, with more recent roles in We Bought A Zoo and the upcoming Thanks For Sharing.
Gone Girl starts production this fall, and some kind of release around this time next year sounds about right for a film with this high-profile cast and hit source material. And yes, Tyler Perry counts as "high-profile" whether you like it or not.
Staff Writer at CinemaBlend
Your Daily Blend of Entertainment News
Thank you for signing up to CinemaBlend. You will receive a verification email shortly.
There was a problem. Please refresh the page and try again.