Chris Rock In Talks To Host The 2016 Oscars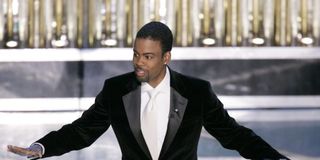 At this point, it's more than a little surprising that anybody would be interested in hosting the Oscars. While it's the biggest night for awarding the film industry, and the broadcast itself is a big night for television, it seems to be a thankless job. Having said that, it looks like we have a serious contender for 2016. The word is that Chris Rock is looking to return to host the award show for the first time in over a decade.
UPDATE: The Academy has confirmed that Chris Rock will return to host The Oscars on Sunday, February 28, 2016.
From Earlier: While the Academy of Motion Picture Arts & Sciences is remaining tight-lipped, Variety is reporting that Rock is in serious negotiations run the Ironman triathlon that is the Academy Awards. An official announcement is expected shortly, which makes it sound like they may be very close to sealing a deal. Rock first hosted the show back in 2005, and since then we've seen a who's who of Hollywood personalities cycle across the stage
From Ellen Degeneres' two stints, to Jon Stewart's equally numbered outings, as well as the likes of Hugh Jackman and Seth MacFarlane, there have been quite a few memorable faces that have taken one of Hollywood's most metaphorically dangerous jobs. Last year saw award show host emeritus, Neil Patrick Harris, step into the spotlight, yet somehow his turn actually saw ratings for the show drop from the previous year. Which means it's time for the producers to look for somebody who can bring more viewers to the show.
No host ever seems to make all of the viewers happy, and in recent years the Oscars telecast has become something of an entertainment laboratory. While various producers have tried new and different ideas in order to see what might work, they've met with little success, which then results in them bringing in a strong, middle-of-the-road personality the following year. For instance, in 2011, they tried to bring a younger audience to the broadcast by having James Franco and Anne Hathaway host, which resulted in Franco looking stoned and Hathaway acting like she may have had too much coffee. The year after that fiasco, they got Billy Crystal out of mothballs to bring out the familiar shtick, and hopefully the ratings along with it.
Seeing as they tried Seth MacFarlane out in 2013, you can assume two things: Billy wasn't a hit, and MacFarlane performed exactly as you would expect him to perform. With that strong divide over whether it was funny, or if it was trash, Ellen and Neil were brought into play the nice card. Now we've apparently entered a bizarro world where Chris Rock has become the safe choice, even after Ellen Degeneres' two performances. Just to show how shocking this is, check out his first monologue from the 2005 gig below. Note how the laughter gets a little uncomfortable when he discusses people pretending to be happy when they lose.
All jokes aside, Chris Rock is a solid choice who still has a wide appeal. As with any Oscar host, not everybody will like all of his jokes - but there's actually nothing wrong with that. So long as he can keep the momentum, and walk the tightrope of comedy and efficiency, it really should be a slam dunk. That is, if he gets the gig, of course. Whoever ends up hosting the 88th Academy Awards, we wish them luck - for their sake, and ours.
The 88th Academy Awards will air on ABC the night of February 28, 2016.
CinemaBlend's resident theme park junkie and amateur Disney historian. Armchair Imagineer. Epcot Stan. Future Club 33 Member.