UPDATE: Glee Writer In Talks For Little Shop Horrors Remake With Joseph Gordon-Levitt?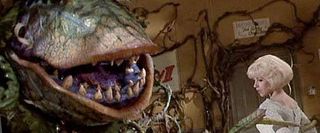 UPDATE: THR has just announced that this Little Shop of Horrors is intended as a vehicle for Joseph Gordon-Levitt. While screenwriter Roberto Aguirre-Sacasa's Glee connections give me pause, JG-L's ability to do this gives me hope.
Glee, for better or worse, is a cultural phenomenon that's scoring plenty of work for its stars as well as those behind the scenes. In the case of writer/co-producer Roberto Aguirre-Sacasa, this has led to the opportunity to rework the once flailing Broadway show Spider Man: Turn Off The Dark, and penning the script for MGM's upcoming Carrie remake. His next big job offer demands he utilize his perceived abilities to revamp a pop Broadway production and revitalize a horror classic into yet another remake. Variety reports that Aguirre-Sacasa has entered into negotiations with Warner Bros. to script "a new version" of Little Shop of Horrors, which has hit the screen twice before.
Generally, remakes are considered to be among the lowest, most uninspired of movie efforts as they are often lazily rehashed idea with some new stars slapped on in a blatant cash grab. However, sometimes remakes are a weird a wonderful reinterpretation of a story that didn't get its proper due the first time around. To me, Frank Oz's 1986 musical Little Shop of Horrors is a perfect example of this.
The original Little Shop was made in 1960 by schlock auteur Roger Corman, who is said to have made the film as part of a bet to see if he could shoot a film on the set of his recently wrapped Bucket of Blood before it was torn down. Whether it's true or not, the original Little Shop was shot in two days with a paltry budget of $30,000. The story follows a clumsy horticulturalist named Seymour who creates breed of Venus flytrap that will ultimately be his bloody downfall. Aside from a bizarre guest appearance from a young Jack Nicholson (it's one of his earliest roles), it's pretty unwatchable, and yet twenty odd years later composer Alan Menken and lyricist Howard Ashman spun this macabre narrative into an extraordinary musical production that went from Off-Broadway to the West End before scoring a movie adaptation.
Admittedly, I love the Little Shop of Horrors musical on stage and screen, from its goofy-yet-engaging story to its incredible puppetry and deeply demented musical numbers. So I'm immediately leery of this "new version." It's unclear at this stage what Warner Bros. has in mind for this remake. On its surface, the project tapping Aguirre-Sacasa suggests the studio wants the musical to get the Glee treatment (excuse me while I shudder at the memory of their Rocky Horror Picture Show), but Aguirre-Sacasa's only in-production screenplay is for a deeply disturbing horror movie. Could that mean they'll look to go grittier….or glitterier? At this point, it's hard to say with any certainty, so until I hear something that can dismiss my "Get off my lawn, you kids!" attitude, I'll be playing its soundtrack on a loop. Excuse me…"It's Suppertime."
Your Daily Blend of Entertainment News
Staff writer at CinemaBlend.