UPDATED: Chris Evans Sprouts Helmet Wings In New Captain America Image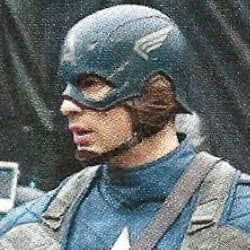 Our first real look at Chris Evans in the full Captain America costume, wings on the helmet at all, dropped in this week's issue of Entertainment Weekly with little fanfare, illustrating the summer section of their 2011 movie preview. Luckily the team at Comic Book Movie caught it and posted a scanned image, which you can see below.
He's not exactly doing anything revolutionary in the image, but I'll admit he does look really good in the costume, which could look ridiculous on a less buff or generally appealing actor. The real question I have now is, who are the guys standing in the background? They could be HYDRA soldiers like the ones seen in this image, though the uniforms look fairly different. Any theories out there? Or do we just want to swoon over the somewhat ridiculous codpiece Cap is sporting, because I'm up for that as well.
Captain America: The First Avenger hits theaters on July 22 this year; you can learn everything you'd possibly want to know about the movie at this point in our Blend Film Database.
UPDATE! Entertainment Weekly has released a clearer version of the photo. We've added that below.
Staff Writer at CinemaBlend
Your Daily Blend of Entertainment News
Thank you for signing up to CinemaBlend. You will receive a verification email shortly.
There was a problem. Please refresh the page and try again.