UPDATED: Harry Potter Character Posters For Draco Malfoy And Bellatrix Lestrange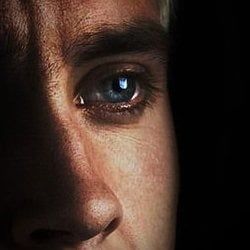 Last week, a pile of crisp new character posters were released for Harry Potter and the Deathly Hallows: Part 1, but one integral character was missing from the assortment of goodies and baddies: Draco Malfoy. Today over at the HeyUGuys Blog, he's finally made an appearance. The poster looks about the same if not a little less harsh than the seven others that were released, but that's probably on purpose.
If you've read the books, you'll know exactly why Draco has a wistful, questioning look on his face here rather than the battle worn look of the others. It's really a great shot.
The other poster released matches an older set of posters that look just as cool but in a very different way. This time it is Bellatrix Lestrange finding her way into the set looking every bit as evil as she ever has.
Part 1 of this final installment of the near decade old Harry Potter film series will be released November 19th with Part 2 following in July, and as much as we've seen from the WB marketing department, it's about to get real. Expect to hear about nothing else for the next six months. For now though, enjoy these two new posters.
UPDATE! The Malfoy poster below, as it turns out, is a fake. It's a fan poster made by HP Greek Fans. If you compare it to the other similarly themed, real Potter posters here you can actually tell. There's a slight difference in coloring and shading which betrays it.
Your Daily Blend of Entertainment News
Thank you for signing up to CinemaBlend. You will receive a verification email shortly.
There was a problem. Please refresh the page and try again.