US Monsters Poster Takes Us Into The Infected Zone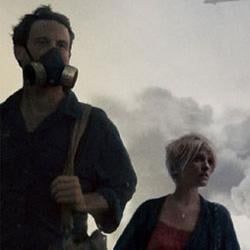 With both Saw 3D and My Soul to Keep to contend with on October 29th, Monsters is really going to have to deliver a solid advertising campaign to stir some buzz. Between the film's trailer and this brand new US one sheet from IMDB, the marketing effort is certainly making an impression on me and I'm eager to spread the interest around.
This is a micro-budget piece from Gareth Edwards about what happens after a NASA space probe stocked full of samples of alien life forms crashes in Central America. Six years later the area is quarantined and deemed an infected zone populated with strange and violent creatures. Regardless, a US journalist and tourist are determined to return home even if it means traveling through the infected zone to do it.
The imagery in this poster gets the job done when it comes to getting the basic point across, but what's particularly chilling are the taglines. Plus, the second one, "Now it's our turn to adapt," really opens up new doors in terms of where this story can take us. Check out the poster below.
Your Daily Blend of Entertainment News
Staff Writer for CinemaBlend.
Your Daily Blend of Entertainment News
Thank you for signing up to CinemaBlend. You will receive a verification email shortly.
There was a problem. Please refresh the page and try again.