Uma Thurman Becoming A Nymphomaniac For Lars Von Trier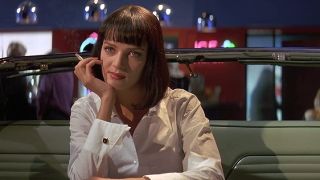 (Image credit: Miramax Films)
Always offering taboo subject matter in uncompromising cinema, Lars Von Trier is a fearless filmmaker who asks a lot of his actors, but the payoff is huge. Bjork, Nicole Kidman and Kirsten Dunst each won a new level of respect from the critical community by giving themselves over to Von Trier's awe-striking and often brutal visions. The latest leading lady lured in by the promise of a Von Trier boost is Uma Thurman, who has officially signed on to Nymphomaniac.
The film is already raising eyebrows over reports that it will be released in two versions, one that features hardcore (and possibly real) sex, and one that will be tamer. Of course, with Von Trier at the helm, "tamer" takes a much different definition, but assume the latter would get an R-rating Stateside as Dogville did. Projected to be told in two parts, Nymphomaniac will follow the titular nympho named Jo, as she unfolds her sexual life from birth to age 50. Regular Von Trier collaborator Charlotte Gainsbourg and newcomer Stacy Martin will share the role, with the latter playing "young Jo."
THR notes it's unknown what part Thurman will have in the film, or by extension how much will be asked of her. To date Shia LaBeouf, who has been making all kinds of wild claims about what Nymphomaniac has in store, has been sharing the most, and seems really eager to cement himself as a "serious" actor by teaming up with the acclaimed but also notorious filmmaker. For Thurman's part, her career could use a shot in the arm. Her last headlining role was in 2009's Motherhood, which made an embarrassing $726,000 worldwide. This followed a string of flops that included The Life Before Her Eyes, My Super Ex-Girlfriend, and The Accidental Husband, which went straight to DVD in the US.
Now, joining a cast that includes Jamie Bell, Stellan Skarsgard, Connie Nielsen and Christian Slater, things are looking up for Thurman. Because even though Nymphomaniac hasn't yet secured a domestic distributor, the star-studded cast coupled with Von Trier's reputation seems sure to score the film an art house run Stateside. For now, the erotic drama is shooting in and around Cologne, Germany, and is expected to hit theaters in 2013.
Your Daily Blend of Entertainment News
Staff writer at CinemaBlend.