Universal Wins Bidding War For Safe House Writer's Script Black Box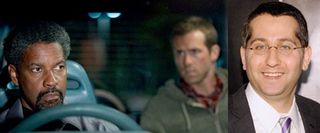 One of the surprise hits of 2012 is Safe House. "Surprise hit?" You might scoff, "It starred Denzel Washington!" True, but it also starred Ryan Reynolds, who lost much of his leading man appeal following flops like Green Lantern the underrated comedy The Change-up. Nonetheless, the spy thriller with a moderate budget of $85 million took in more than $205 mil worldwide, making it one of Universal's most bankable efforts to date domestically.
Safe House's success has already led to its director, Swedish filmmaker Daniel Espinosa, being offered the chance to replace Ridley Scott at the helm of Child 44, and has spurred Universal pursue a Safe House sequel. And now THR has good news for Safe House scribe David Guggenheim, the former US Weekly editor who is now one of Hollywood's most sought after spec script writers.
Guggenheim's latest spec script Black Box went out to studios Wednesday, sparking a bidding war between DreamWorks, Warner Bros and Universal. At the end of the day, Universal reportedly laid down an offer in the upper six-figures that secured the screenplay which begins with a horrific plane crash once Air Force One plummets in America. The political thriller then follows an investigator whose life is thrown in the balance once he uncovers the plane's black box, which contains evidence that the official report of "technical issues" is just a smokescreen.
In a Hollywood frenzied for established franchises and movie adaptations of marketable pre-existing properties, Guggenheim has been enjoying extraordinary success as a spec screenwriter. Aside from Safe House and Black Box, he's also sold Millennium Medallion, which has become the soon-to-be released Stolen starring Nicolas Cage and Malin Akerman, and Summit snagged his Puzzle Palace, promptly attaching McG to helm. In short, everything's coming up Guggenheim.
Your Daily Blend of Entertainment News
Staff writer at CinemaBlend.