Unlike Everyone Else, Jamie Dornan's Wife Probably Won't See Fifty Shades Of Grey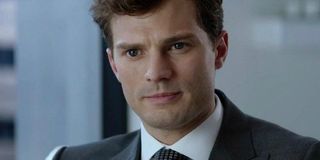 It must be hard to be the wife of an actor who has just starred in an erotic drama. Especially one that has already garnered sways of public attention because of its supposedly raunchy and controversial content. So you can't really blame Jamie Dornan's wife for not wanting to watch Fifty Shades Of Grey, and the Northern Irish actor has admitted that he won't be insisting that she watches it either.
According to the Evening Standard, after being asked on the Fifty Shades Of Grey's red carpet whether Amelia Warner, who he has been married to for just under two years, will see the film, Jamie Dornan confirmed that she hadn't, and probably won't be.
Dornan also went on to explain that he expects his friends, family, and acquaintances to be slightly shocked by some of his actions in Fifty Shades Of Grey. He added that most people who know him have never seen "this side" of the actor before, however, that wasn't going to stop him from taking the role. And that was probably a good decision, because his portrayal of Christian Grey is almost certainly going to boost Dornan's profile immeasurably.
Fifty Shades Of Grey is almost certainly going to top the box office for the next few weeks, with some experts even predicting that the flick will actually make around $80 million over its opening weekend. And while reviews haven't been universally scathing, they have been rather divisive. Some critics have looked to praise the film for making the best out of its mediocre source material, highlighting that at times it is genuinely sweet and funny. While others have labelled it as a meandering mess that fails to live up to the raunch and controversy promised.
Meanwhile Jamie Dornan himself has come in for some criticism for his performance. While Dakota Johnson has been praised for providing warmth and heart through her portrayal, Dornan struggles to truly get to grips with Grey. Instead he simply mopes across the screen, and his brooding intensity soon wears thin and becomes unbearably tedious. However, to fully blame him for the banality of Christian Grey would be harsh. His lack of characterization and complexity is also the fault of E.L. James and screenwriter Kelly Marcel too. Dornan is set to take the brunt of the blame though.
Either way, that won't stop Fifty Shades Of Grey from being a box office behemoth. In fact, its success is so inevitable that two sequels have already been ordered.
Your Daily Blend of Entertainment News
Your Daily Blend of Entertainment News
Thank you for signing up to CinemaBlend. You will receive a verification email shortly.
There was a problem. Please refresh the page and try again.