Uwe Boll Slams Harry Potter, Marvel And His Fans In Epic Video Rant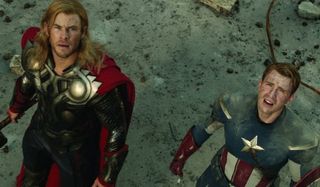 Uwe Boll is totally over it. The German director, a.k.a. The King of Trash, posted a brief but jaw-dropping tirade on YouTube over the weekend — well, multiple tirades — in which he bashes everything from Kickstarter to Marvel to Harry Potter. It's blunt. It's harsh. It's extremely entertaining. Take a look.
This comes after Boll, who directed movies like the two Rampage films and Postal, failed multiple times to gain funding for Rampage 3 on crowdfunding sites. As The Hollywood Reporter notes, his run on Indiegogo raised a little more than $5,000 of his $80,000 goal, while his latest Kickstarter campaign only reached approximately $25,000. With only three days left in the campaign, Boll decided to vent his frustrations online.
In a phrase that sums up the angst in the entire video, Boll says how he wants to make Rampage 3 because it's an important movie, while bashing fans for supporting big blockbusters like Harry Potter, which he calls "a retarded wizard in a forest," and the Marvel movies, which he calls "Avengers bullshit dirt." So he's ready to say goodbye to Hollywood. And he does in his last statement before the end of the video. He'll be fine, because as he says he has "enough money to play golf" until he's dead.
As an added treat, Boll uploaded another video of himself ranting and raving, only this time he bashes the Hollywood conglomerate and specifically throws stones at Robert Downey Jr. and George Clooney. According to him, they're all smiling in the paparazzi photos and on the red carpet because they're secretly laughing at all of us. Your average moviegoer makes around $2,000 a month, he says, and you take that money to the theaters to watch the next "brainwashing, completely fucking bullshit."
But the big truth about Hollywood, he says, has to do with the investors. The industry sucks up "the capital from the rich people from around the world," or, as he so eloquently puts it, "another Chinese, Alibaba idiot" who "wants to see his fucking yacht in Cannes to fuck supermodels." And that's the real movie business according to Boll.
If you're unfamiliar with Boll's side passion for releasing tirades online, then you're unfamiliar with some of his previous work, which we should fix right now. During the promotional campaign for Postal, he released a video in which he called Eli Roth and Michael Bay "fucking retards" and challenged the Transformers director to a boxing match. He also challenged his harsher critics to something called "Raging Boll," which would've been an opportunity for him to physically fight his detractors.
Your Daily Blend of Entertainment News