Vanilla Ice Has Opinions About The New Teenage Mutant Ninja Turtles Theme Song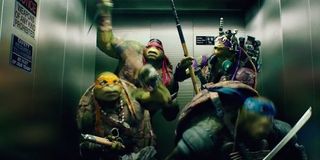 Look, you make a new Teenage Mutant Ninja Turtles movie, people are gonna have opinions. Clearly some of those opinions are unwanted. And some are needed, nay, essential. Are we talking about critics like A.O. Scott or Armond White? Are we talking about Kevin Eastman and Peter Laird, the creators of the Ninja Turtles? No, you fool. We're talking about Vanilla Ice, the creator behind the immortal "Ninja Rap", overheard in Teenage Mutant Ninja Turtles 2: The Secret of The Ooze.
The champions at GQ have sought out Mr. Ice (aka Mr. Rob Van Winkle) to ask about his feelings in regards to "Shell-Shocked", the new pop song tie-in for Teenage Mutant Ninja Turtles. Mr. Van Winkle did not mince words.
For reference's sake, that's the track above, combining the talents of Juicy J, Wiz Khalifa, and the perplexing-named Ty Dolla $ign. Do you need a comparison? Well here you go. This is "Ninja Rap", from the artist known as Vanilla Ice.
It's provocative! It gets the people going!
Ice might have a case here. The new song does seem produced to feature as many genres as possible. "Ninja Rap" certainly has a bit of early nineties New Jack Swing, isolating that backbeat to create a tune much better suited for enthusiastic dancefloor action. He is the true hero in a half shell.
But wait... are we forgetting another challenger? Are we forgetting the Partners In Kryme???
How did we forget that the gauntlet was thrown down 24 years ago? Everything about this is magic. Surely Vanilla Ice saw this, giving him something to aspire to. But has Michael Bay ever heard this song? Does Ty Dolla $ign have it on his ITunes? Guessing NO. Sorry, new Turtles. You guys are playing for second place.
Your Daily Blend of Entertainment News
Thank you for signing up to CinemaBlend. You will receive a verification email shortly.
There was a problem. Please refresh the page and try again.