Vin Diesel Reveals The Dungeons & Dragons Shout Outs In The Last Witch Hunter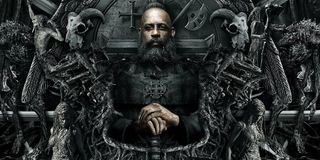 When Vin Diesel met with screenwriter Cory Goodman, they bonded over their mutual love for Dungeons & Dragons. The actor described his favorite character, a half-drow (i.e. dark elf) witch hunter by the name of Melkor, who he found in one of the third-party books he owned (and still owns). On their second meeting, Goodman came back with a screenplay for what would eventually become The Last Witch Hunter. So, it shouldn't come as a surprise that there are nods to the classic fantasy role-playing game in the film.
Cinema Blend sat down with Diesel during the film's press junket to discuss this magical universe and it's connection with D&D. The biggest of them is Kaulder. Diesel headlines the film as this character, a centuries-old witch hunter cursed with immortality by a witch queen. Goodman loosely based this character on Melkor, though obviously he's not a dark elf.
Diesel also noted that the drow race was an influence for conceiving the Hexan, aka the witches, of this story. He said,
In The Last Witch Hunter, witches were in an ancient battle with humanity, who they saw as destroyers of the natural world. With the modern age came a pact which forced the witches into the shadows to refrain from practicing magic on humans. Much like in D&D, these witches are at different levels of experience. There's even a line of dialogue in the film mentioning this, and Diesel confirmed that this too is a sly nod to the game.
Diesel continued to say there are most likely more D&D references, considering his conversations with Goodman years back, but he had to think on it.
The Last Witch Hunter also features Rose Leslie (Game of Thrones), Michael Caine (the Dark Knight trilogy), Elijah Wood (The Hobbit/Lord of the Rings), and Ólafur Darri Ólafsson (upcoming The BFG). The film is currently playing in theaters and sees Kaulder stumbling across a nefarious plot to return the witch queen to power and unleash the Black Death plague upon humanity once more.
If you've seen the film, what other D&D references did you find?
Your Daily Blend of Entertainment News
Thank you for signing up to CinemaBlend. You will receive a verification email shortly.
There was a problem. Please refresh the page and try again.