Michael Caine Joins Vin Diesel For The Last Witch Hunter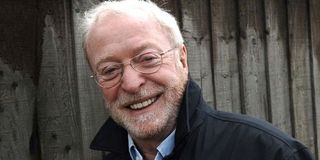 With two Academy Awards under his belt as well as unforgettable performances in films like Alfie, The Dark Knight, Dirty Rotten Scoundrels and Hannah and Her Sisters, Michael Caine is a living legend of cinema. So it's about damn time he teamed up with one of contemporary cinema's greatest odes to star power, Vin Diesel.
That's right. Summit Entertainment is proud to announce that Michael Caine has joined the cast The Last Witch Hunter opposite Vin Diesel and Game of Thrones's Rose Leslie. Described as a supernatural action film, The Last Witch Hunter will star Diesel as an immortal witch hunter (naturally) who is seeking to stop a current NYC coven from unleashing a devastating plague on mankind. But he can't do it alone, and so must team up with his natural enemy, a female witch played by Rose Leslie. No mention is made in this press release what role Michael Caine is set to portray.
The Last Witch Hunter was born from a pitch of Cory Goodman, best known for writing the adapted screenplay of the bonkers Paul Bettany vehicle Priest, in which the titular holy man hunts down vampires who have abducted his niece. Summit bought The Last Witch Hunter property, and initially had Kazakhstan-born helmer Timur Bekmambetov of Day Watch and Night Watch acclaim attached to direct. However, by early 2011, Bekmambetov was out, and Breck Eisner was in talks. Blame it on the production of Abraham Lincoln: Vampire Hunter, which Bekmambetov began shooting in March of that year.
As helmer of the Matthew McConaughey action-adventure Sahara and the 2010 remake of the horror flick The Crazies, Eisner seemed a solid choice for the director's chair. He had experience with directing horror and action sequences. Nonetheless, it wasn't until the summer of 2012 that the project was developed enough to attract the interest of Vin Diesel, who at that point was in between Fast Five and Fast & Furious 6. Nearly two more years clicked by before Diesel himself shared an update of the project. The Facebook fanatic used the site to post pics of The Last Witch Hunter's concept art, viewable below:
It was only earlier this month that Rose Leslie (Ygritte forever!) joined The Last Witch Hunter as his odd couple partner/love interest. With the addition of Michael Caine, it seems like The Last Witch Hunter is at long last ready to roll into production. Eisner is primed to helm. He's got Vin Diesel, Rose Leslie, and Michael Caine, plus a rewritten script from Burk Sharpless and Matt Sazama (Gods of Egypt), polished by D.W. Harper and Melisa Wallack. However, Summit is not yet announcing when The Last Witch Hunter will begin shooting. And with no release date yet in place, we're left to wonder when this intriguing bit of fantasy might finally become a reality.
Your Daily Blend of Entertainment News
Staff writer at CinemaBlend.