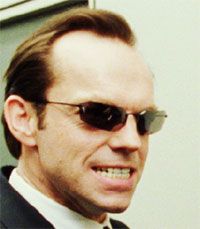 The hall of classic voice-over actors will soon have a new inductee to sit beside Frank Morgan as the Wizard of Oz, James Earl Jones as Darth Vader and Dick Cheney as the voice of the Jurassic Park dinosaurs. This summer, Hugo Weaving (The Matrix, Lord of the Rings) will voice Megatron in the up-coming Transformers.
Aint it Cool News broke the story when a secure website associated with the Transformers movie was hacked. Sources at Paramount and DreamWorks were also contacted, and it was confirmed that Weaving has been hired as the voice of Megatron for Michael Bay.
Squabbling amongst the fan boys has been ongoing since the projects announcement, and this latest move in Transformers voice casting is likely to be met with the same lack of confidence. While Peter Cullen will resume his role as the voice of Optimus Prime, Frank Weller, the original Megatron, got the shaft in favor of Weaving. The weight of this decision will be revealed in July. Meanwhile, I'm waiting for Bay to dig up Orson Welles, or at least summon his spirit from beyond the grave.
Your Daily Blend of Entertainment News
Thank you for signing up to CinemaBlend. You will receive a verification email shortly.
There was a problem. Please refresh the page and try again.