Wait, Is Asgard Going To Be In Avengers 2? Check Out This New TV Spot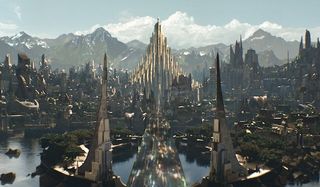 Thor may be spending most of his time on Earth in Avengers: Age of Ultron, but a new TV spot for the highly anticipated blockbuster could indicate that he'll head home to Asgard at some point. Check it out below!
While there are certainly a lot of great scenes in this preview (Hawkeye's line, "We're fighting an army of robots, and I have a bow and arrow," will surely go down as one of the greatest superhero movie quotes of all time), the part that grabbed our attention was during Thor's section when he's walking through what looks like a building located in Asgard. In case you blinked and missed it, we've gone ahead and captured the one-second shot of Thor in this strange hall at the 0:13 mark.
That certainly looks like a building that would be found in the home of the Norse gods, previously seen in Thor and Thor: The Dark World. The last time moviegoers saw Asgard, the city was recovering from an attack by the Dark Elf Malekith's forces, during which queen Frigga was killed. In the last minutes of the film, we also learned that Loki had disguised himself as Odin and taken the throne, so it's safe to say the realm isn't in the best of hands right now.
Obviously, Thor will spend most of Avengers: Age of Ultron with the rest of Earth's Mightiest Heroes fighting HYDRA and Ultron, but the big question is why he ends up in Asgard during the film. One possibility is that he doesn't truly travel back there. We know that at some point, Scarlet Witch will use her abilities to play mind games with the Avengers, so perhaps during a traumatic hallucination, Thor will be transported to his old stomping grounds.
However, what's likelier is that, near the end of Avengers: Age of Ultron, Thor will head back to Asgard to deal with a situation, which could set up the events of 2017's Thor: Ragnarok. That would certainly explain the scene that Chris Hemsworth will share with Tom Hiddleston and Idris Elba, who will reprise their Loki and Heimdall roles, respectively. Thor: Ragnarok is set to take place immediately after Avengers: Age of Ultron, and since there hasn't been any mention of Thor appearing in Captain America: Civil War, having him quickly head back home would explain why he isn't present for any of the Earth events coming up.
We'll see the God of Thunder team up with his fellow Marvel superheroes when Avengers: Age of Ultron is released on May 1.
Connoisseur of Marvel, DC, Star Wars, John Wick, MonsterVerse and Doctor Who lore. He's aware he looks like Harry Potter and Clark Kent.
Your Daily Blend of Entertainment News
Thank you for signing up to CinemaBlend. You will receive a verification email shortly.
There was a problem. Please refresh the page and try again.