Wait, How Many Alien Films Does Neill Blomkamp Want To Make?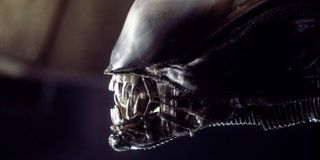 Alien is one of the more beloved cinematic franchises in movie history. That's why when Neill Blomkamp first teased that he was working on a new edition to the series, the world-wide movie community went ballistic. This hysteria then went into overdrive when it was teased that he'd been doing so with Sigourney Weaver - and it became cataclysmic when it was confirmed that Blomkamp's vision would become a reality. But there's more! The South African filmmaker has now hinted that there will be more than one new Alien adventure from him coming in the future.
Blomkamp, who is currently doing the rounds promoting his upcoming film, Chappie, recently sat down with Empire about his vision for the future Alien films when he teased that he has enough ideas to expand into multiple stories. He explained,
The possibility of Neill Blomkamp making more than one film in the sci-fi franchise is definitely an interesting element when one considers the on-going fan debate regarding how the new movie will squeeze into the series continuity timeline. It was previously suggested that Alien 5, which is the provisional title for his effort until someone reveals otherwise, might try and erase Alien 3 and Alien Resurrection, and if this were the case it would be easy to see how it would be easy for Blomkamp to start pursuing multiple storylines involving Ellen Ripley. However, the director has since been dismissed that idea, which leaves fans back at square one.
Others have suggested that Blomkamp's Alien 5 could possibly take place in between the stories of Aliens and Alien 3, and the fact that Michael Biehn may be coming back to play Cp. Dwayne Hicks again may suggest that's a distinct possibility. Of course, the idea of multiple stories being told over multiple films during this time period is tricky, as that creates a limited timeframe for things to unfold. That comes on top of the fact that both Sigourney Weaver and Biehn have aged a bit in the years since Aliens, which would make the idea of multiple Alien 3 prequels difficult. Maybe they're just all clones and that's the answer to every question.
At the moment, any and all assumptions about the franchise timeline is guesswork, and since Blomkamp is still only getting settled into the Alien franchise, it might still be some time before anything becomes 100 percent official. We'll be patiently waiting for more info.
Your Daily Blend of Entertainment News
Your Daily Blend of Entertainment News
Thank you for signing up to CinemaBlend. You will receive a verification email shortly.
There was a problem. Please refresh the page and try again.