Wait, The District 9 Director Was Working On An Alien Film With Sigourney Weaver?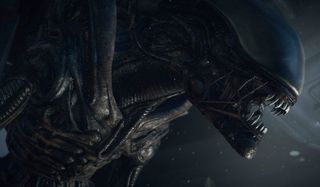 Neill Blomkamp has revealed that he has been working on a new Alien film with his Chappie star Sigourney Weaver, who, of course, shot to fame as Ripley in the beloved sci-fi franchise. It looks as though the District 9 director worked on the concept art in an unofficial capacity, but that doesn't stop them from being truly amazing.
Pretty sweet, right? Neill Blomkamp also took to Twitter (on an unverified account, keep in mind) to confirm 20th Century Fox "didn't really even know I was working on it." Hopefully those in control over at the studio will now see the South African filmmaker's work and then decide to call him up and give him an official whack at another installment to the franchise. I know that's almost certainly not going to happen, but a boy can dream!
Neill Blomkamp's barrage of pictures actually hinted at a possible story too. The image at the top of the page, as well as the one underneath this paragraph, both suggest that his proposed addition to the Alien franchise would see Sigourney Weaver's Ripley exploring the mythology that was introduced in Prometheus, the prequel to the first four installments of the series.
Neill Blomkamp's images didn't stop there though. Not only did they tease the return of Sigourney Weaver's Ripley but also suggested that Michael Biehn's Dwayne Hicks, who pretty much stole the show in James Cameron's Aliens only to be killed off at the start of Alien 3, would be back, too. You can check out Neill Blomkamp's tease of Ripley and Hicks in action together below. It will probably be the best thing that you'll see in all of 2015.
Fancy seeing more? Of course you do. In total, Neill Blomkamp uploaded eight pieces of concept art that he had created to his Instagram account. You can peruse, enjoy and fantasize over his potential Alien film by clicking over to the next page. Go on. We all know you want to. Especially since one of them is of an Alien.
Your Daily Blend of Entertainment News
Thank you for signing up to CinemaBlend. You will receive a verification email shortly.
There was a problem. Please refresh the page and try again.