Waiter Hired To Rewrite Tom Hardy Capone Biopic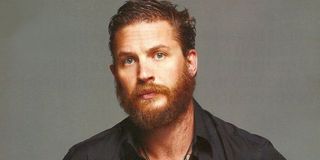 Both New York and Los Angeles are peopled by struggling artists (musicians, actors, writers) working survival jobs (temp, barista, waiter) to make rent while they work toward their dreamed about big break. The statistics on how many of these daring dreamers "make it" can be pretty uninspiring. But take heart, dreamers, because today we have another story about a newly emerged artist's overnight success.
Deadline reports Warner Bros. has hired waiter/writer Tom Shepherd to do a rewrite on the Tom Hardy vehicle Cicero. With this career-launching deal, Shepherd is officially a newly minted professional screenwriter.
Shepherd first drew Hollywood's notice late last year when his Marlon Brando biopic script Hey, Stella! scored a coveted spot on the Black List, a collection of unproduced screenplays deemed the most promising by Hollywood power players. That project, which focuses on Brando's early days as an actor through his career-defining role in Tennessee Williams' A Streetcar Named Desire is being developed by Gangster Squad producer Kevin McCormick, who is currently in search of a director.
Considering Hey, Stella!, Shepherd's new gig seems a perfect fit. Cicero will follows the early life of notorious American gangster Al Capone, as he rose from a low-level pimp to the infamous gangster known as Scarface. With Hardy in the lead as Capone, Cicero is guaranteed to draw notice, which is more good news for Shepherd, who has probably given notice at his restaurant gig by now.
Shepherd will revise the script first penned by The Wild Bunch writer Walon Green, then tweaked by Harry Potter 5-7 director David Yates, who was attached to helm last year. There's no word at this point on when Cicero is expecting to lens, but we'll keep you updated.
Your Daily Blend of Entertainment News
Staff writer at CinemaBlend.
Your Daily Blend of Entertainment News
Thank you for signing up to CinemaBlend. You will receive a verification email shortly.
There was a problem. Please refresh the page and try again.