Warcraft Movie Eyes Paula Patton And Colin Farrell For Lead Roles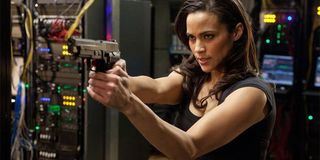 Playing the lead role in a video game adaptation can be a seriously mixed bag-- just ask Timothy Olyphant, Mark Wahlberg, Til Schweiger and other stars of failed efforts-- but that doesn't mean there aren't plenty of actors willing to take the gamble. According to Deadline director Duncan Jones has started eyeing a cast for his adaptation of Warcraft, and he's set his sights on Paula Patton and Colin Farrell. Patton is reportedly negotiating for a lead role, and there's an offer out to Farrell, though it's uncertain how likely he is to actually sign on board.
Jones signed on to direct the film back in June, as a hugely high-profile follow-up to his critically beloved, modestly budgeted films Moon and Source Code. The only idea we've gotten about what the movie will actually entail, aside from what we know about the video game source material, came at Comic Con, where Jones took the stage to officially announce he'd be directing the movie and show off some test footage, which involved a warrior on the verge of a big conflict with a massive green beast. But we still don't know anything about how Jones will craft a story out of the massive Warcraft mythology, which gives us few options in figuring out how Farrell and Patton might fit into the saga.
Our resident WoW fan (well, he's married in the CB family at least) is already plenty skeptical about how a movie based on the massive video game world will work out, and it seems unlikely that Farrell and Patton are the kind of names that will reassure anybody. Then again, maybe Jones knows that, and it's part of the point. The Warcraft adaptation, more than just satisfying fans, will be all about creating epic battles and impressive visuals, and the people in the middle are likely to be outshined by the beasts and the myths that surround them (just ask the cast of Lord of the Rings). Farrell and Patton are both capable actors with proven action chops-- Farrell most recently in the Total Recall remake, Patton in Mission: Impossible - Ghost Protocol-- and they are just as capable as anyone of melting into this fantasy world. Isn't that about the best you can ask for?
If you want to check these two out for yourself, your next chance to see Patton is in this weekend's Baggage Claim, while Farrell will be popping up in this December's would-be holiday hit Saving Mr. Banks. You can also watch Patton in action in this clip from Ghost Protocol below:
Your Daily Blend of Entertainment News
Staff Writer at CinemaBlend