Watch Adam Sandler And Bob Barker Continue Their Feud In This Epic Video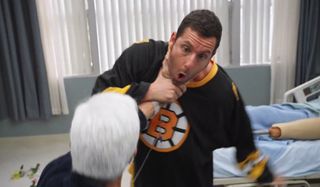 After almost 20 years, Bob Barker and Adam Sandler are still feuding. It all started when the two had an on-screen scuffle in Happy Gilmore, but we all thought they had buried the hatchet. Well, they've reignited the feud for a good cause, and the former Price Is Right host still packs a punch.
Adam Sandler and Bob Barker have put aside their differences for the moment to support autism programs. This comes at a great time because Barker is on hospital bed rest as he recovers from hip surgery, and Sandler is all too eager to blow on his hot soup for him. Soon, though, the two start hurling jabs at each other, like "You're looking chunkier than the soup" and poking fun at Sandler's "wacka wacka woo" voice. But when Barker called Sandler a desperate idiot, that's when the actor lost his cool and threw the first punch.
Barker followed that up by shattering a vase over his head before recreating the pair's fight scene from Happy Gilmore and pouring hot soup on Sandler's chest. Before they knew it, they were in the throngs of a full-blown brawl. Sandler even thought he almost killed his old co-star and attempted to shock him back to life, but it was all a diversion so Barker could get a good enough grip to drench Sandler in the contents of his bed pan.
In the end, no one wins. Sandler thinks he has the upper hand when he grabs a vial of ebola, but Barker grabbed it and spit the virus in his face. "I wish I could see David Spade's face when he finds out there won't be a Grown Ups 3," joked Barker.
The original fight between these two guys in Happy Gilmore was sparked by Barker berating Happy (Sandler) for his poor golf skills. "There is no way you could have been as bad at hockey as you are at golf," he said. Barker still has a wicked way with words after all these years.
Adam Sandler and Bob Barker rebooted their famous fight scene for Comedy Central's Night of Too Many Stars: America Comes Together For Autism Programs. The special features a bevy of celebrity talent in the hopes of raising money for New York Collaborates for Autism (NYCA), which supports a variety of programs. Steve Carell, Jon Bon Jovi, Steve Buscemi, Louis C.K., Will Forte, Chris Rock, Maya Rudolph, Amy Schumer and Weird Al are some of the names who'll be in attendance.
Your Daily Blend of Entertainment News