Watch Alan Rickman Prank Daniel Radcliffe On The Harry Potter And The Prisoner Of Azkaban Set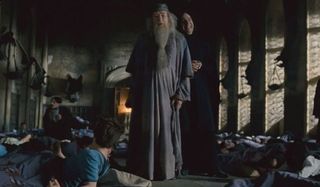 The world is a much darker place since Alan Rickman passed away at the age of 69 on Thursday. But while movie fans across the globe will be wrought with agony over the death of such a tremendous acting talent the best way to cure these blues is by re-watching his greatest achievements. Or, instead, you can watch this clip of Alan Rickman and Michael Gambon pranking Daniel Radcliffe on the set of Harry Potter And The Prisoner Of Azkaban by making everyone think that he's flatulent.
Awesome stuff. Michael Gambon was actually making his debut as Albus Dumbledore in The Prisoner Of Azkaban, replacing Richard Harris who had portrayed the beloved wizard in The Sorcerer's Stone and The Chamber Of Secrets.
Ever the hellraiser, Michael Gambon took it upon himself to prank his youthful co-stars, and clearly Alan Rickman was instantly in cahoots with his counterpart as the clip shows him laughing it up riotously while the 75-year-old used a fart machine to make Daniel Radcliffe look incontinent.
Obviously, for most people, Alan Rickman will forever be known as Severus Snape in the Harry Potter film series, a character that he played with the necessary brooding mystery to make him iconic.
For others, if not everyone, Alan Rickman is rightfully recognized as one of the greatest villains in the history of cinema for his portrayal of Hans Gruber in Die Hard. His meticulous cunning, willingness to murder in cold blood, and cold-hearted smarts were the perfect counterpoint to Bruce Willis' John McClane, and his performance is still the yardstick that all other action villains are measured against.
But Alan Rickman's career was so much more than these two roles. Whether it was his performance as the Sheriff Of Nottingham in Robin Hood: Prince Of Thieves, which earned his a BAFTA Award for Best Actor In A Supporting Role, or as the deceased cellist in Truly Madly Deeply, or Colonel Brandon in Sense And Sensibility, or as the world's worst husband in Love Actually, Alan Rickman not only managed to delicately control every scene he was in, but he always made you root or relate to his characters.
Simply put, the guy was an acting behemoth. And the deep loss felt by the acting community following his death on Thursday proves just how respected and beloved he was by his peers. Sir Michael Gambon himself paid tribute to Alan Rickman following his death, calling him a "great friend," before adding, "Everybody loved Alan. He was always happy and fun and creative and very, very funny."
Not only does the film industry need more actors like Rickman, he sounds like the world needs more people like him, too. R.I.P., good sir. Alan Rickman's final performance -- vocally, at least -- will be seen in Alice Through The Looking Glass, which is released on May 27, 2016.
Your Daily Blend of Entertainment News