See Harry Potter Fans' Moving Tribute To Alan Rickman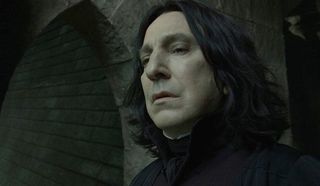 Today we lost another beloved actor, Alan Rickman, who passed away at the age of 69 after a battle with cancer. With more than 60 credits on his resume in his almost 40 year career, he will be fondly remembered for roles like the villainous Hans Gruber in Die Hard, the put upon actor Alexander Dane in Galaxy Quest, and to millions as Severus Snape in the Harry Potter franchise. Fans of this last family of films took to the streets, or at least the train station, to show their love of the actor and character.
Fans of author J.K. Rowling's teen wizard saga showed up at King's Cross station in London, home of Platform 9 3/4, where Harry and his fellow students caught the train to Hogwarts School of Witchcraft and Wizardry, and turned it into a makeshift monument honoring Alan Rickman. They left flowers, photographs, handwritten notes, and other items commemorating the memory of the actor.
One of the replies to this tweet indicates that the memorial was removed at some point, and someone chimed in that it was all taken into the gift shop because it couldn't be left out overnight. You have to wonder if perhaps it will be put back out in the morning.
The venerable actor brought the character Severus Snape, the cold, often cruel potions teacher at Hogwarts, to life over the course of the eight films in the Harry Potter franchise. One of the most complex, complicated characters in the entire saga, Snape's taciturn, callous exterior and uncertain allegiances masked a deep pain and anguish. Let's just say there's a very good reason why one of Harry's sons bears the middle name Severus.
There has been an outpouring of love for Alan Rickman and moving tributes from many of the people he worked with in the industry over the years. Daniel Radcliffe, who played Harry Potter, called Rickman one of the most supportive people he's ever met in the film industry, while Emma Watson, also known as Hermione Granger, said she felt lucky to have worked with such a special actor and person.
Kevin Smith, for whom Alan Rickman played the Voice of God in Dogma, took to Facebook to post this:
We'll be able to hear that voice on screen one more time, as Alan Rickman lent his distinctive vocal talents to Alice Through the Looking Glass, which hits theaters later this year. He will be sorely missed both by those who knew him and those of us who never met him alike
Your Daily Blend of Entertainment News