Watch Benedict Cumberbatch Do As Many Impressions As Possible In A Minute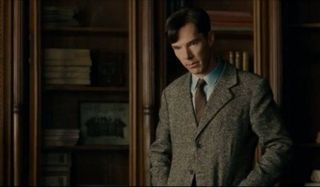 Just when you thought it was impossible for the world to fall in love with Benedict Cumberbatch even more, he goes and does something like this. Words can't do the elegant thespian's efforts justice. Just sit back, watch, enjoy, and then regret that your mother didn't have the gall to name you Benedict.
It's not that Benedict Cumberbatch excels with his impressions - far from it in fact. It's just that he embraces such a silly request wholeheartedly. And when you consider his superlative efforts in Sherlock, Star Trek Into Darkness and now The Imitation Game have seen him labelled as one of the best actors of his generation, he could easily think that he is above such tomfoolery. Benedict Cumberbatch was ingeniously challenged to see how many imitations he could perform because his new film is called, The Imitation Game.
But which famous actors did the English thespian revel in replicating? His Alan Rickman was so spot-on it was almost spooky, while his Tom Hiddleston, Owen Wilson, and Matthew McConaughey were also rather exemplary too. Especially the latter, because Benedict Cumberbatch basically just recreated McConaughey's dinner table scene at the top of the World Trade Center from The Wolf Of Wall Street, thus giving us a sneak peek at what he would have been like in Martin Scorsese's rambunctious Wall Street romp. Unfortunately, his John Malkovich, Jack Nicholson, Christopher Walken, Bane, Taylor Swift and Michael Caine were not so fantastic - but he performed them with so much verve and vigour that you couldn't help but still be charmed by him. In fact, his impression of Michael Caine was eerily similar to that of Paul Whitehouse's from the legendary BBC comedy, Harry Enfield & Chums. Don't believe me? Check out the clip below.
Benedict Cumberbatch's turn as Alan Turing, the pioneering computer scientist who cracked the Nazi's Enigma code that helped the Allies win World War II, in The Imitation Game has been lavished with praise. He has been labelled the best thing about the movie, and early suggestions are that he will be very busy around awards season. Whether it will be enough to actually land him any awards remains to be seen. But this year's best acting field is still very open indeed. Only Michael Keaton in Birdman and Eddie Redmayne's in The Theory of Everything have reportedly matched Benedict Cumberbatch's efforts so far. Whether their Alan Rickman impressions are as good as his is another question entirely.
Your Daily Blend of Entertainment News