Watch Bucky Rip Through Most Of Team Iron Man In New Civil War Clip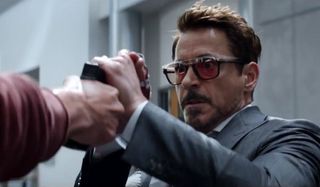 Upon first glance it would seem as though Team Iron Man has the upper hand in the upcoming Captain America: Civil War. Sure, Steve Rogers has enlisted Scarlet Witch, Ant-Man, Falcon, and Hawkeye, but Tony Stark has Vision, War Machine, Black Widow, Black Panther, Sharon Carter, and Spider-Man. However, one should never underestimate the power of Cap's best friend Bucky. A new clip from Civil War has just hit the web showcasing The Winter Soldier's ability to absolutely tear through Team Iron Man. Check it out below.
If that clip from Jimmy Kimmel Live doesn't get you excited for Civil War, then nothing will. It opens on an intense action sequence taking place presumably after Bucky has been taken in by The Avengers. Something has gone wrong and Team Iron man rushes in to take him down. Donning his badass Iron Glove, Tony runs in to fight Bucky mano-a-mano. It doesn't go so well, and the encounter ends with Bucky almost shooting Iron Man square in the face. Reinforcements show up in the form of Agent 13 and Black Widow, but they barely fare any better than Tony. Eventually Bucky gains the upper (metal) hand on Natasha Romanoff, who is saved only by the swift intervention from Chadwick Boseman's T'Challa.
Judging by Bucky's overall demeanor during the fight, it seems as though some of Hydra's brainwashing continues to have an effect on his psyche. During his brawl with Black Widow, she makes a remark about him recognizing her, indicating that this fight may see him in some sort of trance, rather than genuinely trying to murder any of The Avengers.
What's interesting to note about the fight sequence – as well as the interview that follows – is that the allegiances in Captain America: Civil War will likely seem much more fluid than we had previously thought. Much like in Mark Millar's original Civil War graphic novel, some combatants in the titular war will likely play both sides and never show all of their cards during the course of the battle. This seems to particularly apply to Emily VanCamp's Sharon Carter, whom we know shares a special bond with Cap from their interactions during the events of Captain America: The Winter Soldier.
If you're anything like me, then watching the above video only made you more excited to see Captain America: Civil War. The movie has received an insane critical response, and promises to potentially be the best superhero showdown film that we see during the course of 2016 – which is saying something. We will bring you all of the latest and greatest updates pertaining to Civil War as they become available to us; the highly anticipated Phase 3 film will hit theaters on May 6.
Originally from Connecticut, Conner grew up in San Diego and graduated from Chapman University in 2014. He now lives in Los Angeles working in and around the entertainment industry and can mostly be found binging horror movies and chugging coffee.
Your Daily Blend of Entertainment News
Thank you for signing up to CinemaBlend. You will receive a verification email shortly.
There was a problem. Please refresh the page and try again.