Black Panther In Captain America: Civil War, What You Need To Know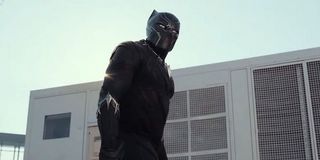 Most of the participants in next month's Captain America: Civil War are established characters in the Marvel Cinematic Universe, but there are a few new players bring thrown into the mix. The one who's arguably got the most promotion is Black Panther, a Marvel Comics mainstay since 1966 who is being played by Chadwick Boseman. Before he leads his own solo movie in 2018, Black Panther will debut during the third Captain America installment as one of its many combatants. After numerous attempts at trying to get a Black Panther movie made for more than 20 years, he's finally making the jump to live action.
Although the character has had numerous adventures in the comics and in animated form, for many people, this will be their first exposure to Black Panther for many moviegoers. To prepare those of you who are unfamiliar with his background and skill set, here are the key points you need to know about him before heading into Captain America: Civil War.
Who Is Black Panther
The Black Panther is the ceremonial title given to the king of Wakanda, the most technologically advanced country on Marvel's Earth. That means many have been the African country's Black Panther over the centuries, but the present-day one and most famous is T'Challa. When we meet him in the MCU, he'll be Wakanda's prince rather than king, and he'll still be in the early phase of his hero career.
Like his father, T'Chaka, and other ancestors, is a skilled fighter who successfully performed the necessary rituals to earn the Black Panther title rather than just have it handed to him. He's also one of the smartest men in the world, specifically when it comes to physics and advanced technology. As for T'Challa's actor, Chadwick Boseman, he's become well known in recent years for playing Jackie Robinson in 42, James Brown in Get on Up and Thoth in Gods of Egypt, but playing Black Panther will be his most prominent role yet.
What's Special About Black Panther's Costume?
Wakanda's primary natural resource is the rare metal vibranium, which, as you can guess from the name, can absorb sound waves and other vibrations. It's the same material that Captain America's shield is made out of, but because Black Panther is royalty in a country with an ample supply of the metal, he's been able to weave the metal through his entire costume. That allows Black Panther to absorb and repel any attack from an opponent, and as seen in the second trailer, the suit deflected bullets being sprayed at T'Challa from a helicopter. Now that's cutting edge superhero fashion!
The costume also has retractable claws, and because they're made of vibranium as well, they'll leave permanent scratches on Captain America's shield when those two eventually fight. Black Panther's suit in the comics also holds several energy daggers, but it remains to be seen whether those will be part of his arsenal in the MCU.
What Are Black Panther's Abilities?
As mentioned earlier, Black Panther is a skilled fighter, meaning that he's mastered several forms of martial arts. What takes him a step above a lot of the other great Marvel fighters is the Heart-Shaped Herb he ate upon becoming Wakanda's ruler. This enhanced his speed, reflexes, senses, healing and more to superhuman levels. It hasn't been revealed yet whether this herb is in play for the MCU, and even it it is, we may not even learn about it until the Black Panther solo movie.
That said, there's a moment in both Captain America: Civil War trailers where Black Panther is on foot chasing Bucky Barnes, who is driving a motorcycle. While T'Challa isn't fast enough to catch up to Bucky merely by running, he significantly outpaces Steve Rogers and eventually propels himself from moving a car to take out Bucky's ride. So clearly he's either at peak human physicality or a step beyond.
Where Is Black Panther's Allegiance?
As you can tell in the image above, Black Panther will be fighting alongside Team Iron Man during Captain America: Civil War, but his true allegiance isn't as it looks on the surface. T'Challa has been referred to many times as the movie's "third party" and "fresh eyes," with his agenda neither aligning fully with Tony Stark or Steve Rogers. His political mission in the United States is to get the conflict under control. Therefore, we can look at T'Challa working with Tony as a means to an end. The Wakandan prince may not agree completely with Tony's viewpoint, but because they have some shared interests
We've also seen several moments where Black Panther is chasing or fighting Bucky Barnes, a.k.a. the Winter Soldier, who is being sought after by the authorities following the passing of the Sokovia Accords. Black Panther has taken it upon himself to bring in Bucky for a crime that's been pinned on him, and while it was rumored last year that T'Challa might be after the former HYDRA assassin for personal reasons, now it appears that this pursuit is just business.
What Is Black Panther's MCU Future?
After taking part in this massive superhero conflict, Black Panther will lead his own movie on February 6, 2018, which is being directed by Creed's Ryan Coogler. Set in Wakanda, the movie will explore T'Challa's family life and him learning how to be a king. Aside from T'Challa, the only other character who's been mentioned (but not officially confirmed) to appear is Martin Freeman's Everett Ross, a government agent with ties to Black Panther in the comics and who is also being introduced in Captain America: Civil War. However, those of you who saw Avengers: Age of Ultron will remember that Andy Serkis played Ulysses Klaue, the arms dealer who had stolen a large supply of vibranium from Wakanda. Klaue (or Klaw, as he's usually known), is one of Black Panther's greatest enemies in the comics, and despite Ultron ripping off his arm, he's still alive, so he could make a wonderful main antagonist.
If Black Panther does well, you can bet that it will follow in the footsteps of Marvel's other first installments (except for The Incredible Hulk) and get a sequel ordered for Phase Four. Beyond that, it wouldn't be surprising to see him appear in one or both of the Avengers: Infinity War movies. Not only will they feature upwards of 60 major characters, but Kevin Feige also said that Black Panther links to the two-part story. Remember, Chadwick Boseman signed a five-picture deal with Marvel, and right now, only two movies are accounted for.
Moviegoers will see Black Panther in action for the first time in the MCU when Captain America: Civil War hits theaters on May 6. In the meantime, let us know what you're looking forward to most about his appearance in the comments below.
Connoisseur of Marvel, DC, Star Wars, John Wick, MonsterVerse and Doctor Who lore. He's aware he looks like Harry Potter and Clark Kent.
Your Daily Blend of Entertainment News
Thank you for signing up to CinemaBlend. You will receive a verification email shortly.
There was a problem. Please refresh the page and try again.