Watch The Cast Of Harry Potter Filming Deathly Hallows From Behind The Scenes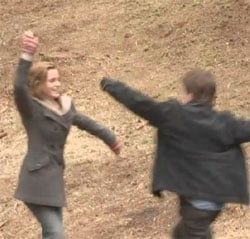 Like most movie lovers you're probably endlessly fascinated by the process of what happens behind the scenes to bring a story to life on screen. But with Harry Potter and the Deathly Hallows, somehow everything that happened on the set while they filmed it seems even more important. It's an ending for something that's been an integral part of the lives of millions for over a decade now. We're headed for teary goodbyes and somewhere on a movie set, they've already called it a wrap on the lives of Harry, Ron, and Hermione.
So don't feel ashamed if you get a teary eyed watching the footage I'm about to show you. Below you'll find two videos embedded, which give you a glimpse of what it took to make Harry Potter and the Deathly Hallows a reality. It's candid footage, shot on set while they filmed. In those two videos you'll see a lot of the little moments which make a movie set like this one work. You'll a footrace between Dan Radcliffe and Emma Watson, which ends in a high-five. You'll see the quietly patient director, working tirelessly behind the scenes to make sure everyone gets everything right. You'll see green screens and the beginnings of what could turn out to be some of the series most epic performances. Here's a brief, utterly candid glimpse of just how the Deathly Hallows was brought to life.
For more Harry Potter and the Deathly Hallows: Part 1 images, trailers, and info visit the Blend Film Database
Your Daily Blend of Entertainment News
Thank you for signing up to CinemaBlend. You will receive a verification email shortly.
There was a problem. Please refresh the page and try again.