Watch The Dark Knight Rises Premiere Live Online Right Now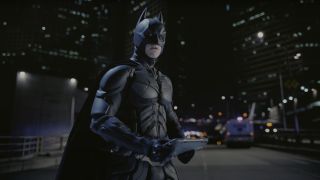 (Image credit: Warner Bros.)
The Gotham City of Christopher Nolan's Batman trilogy isn't really supposed to be New York City, but New York still nicknames itself Gotham anyway, so it makes perfect sense as the place to host the premiere of The Dark Knight Rises. The action is all going down right now at the Upper West Side's Lincoln Square theater, and while we can't be there ourselves, we've got a live stream going right now below to show you all the action-- the talent, the excitement, and who knows, maybe some scoops directly from the red carpet.
So far we've seen Gary Oldman walking the carpet, looking a little bit overwhelmed but totally dapper in a brown suit, and then an appearance from former American Idol Chris Daughtry-- because you really never know who might show up on a red carpet-- well, it's a black carpet for this movie, but you get the idea. A lot of the cast of this film has been hard to find in interviews, so even though these red carpet moments are short, they might be the best chance to see them give a little insight into the film before the movie opens for the rest of us this Friday.
Check out the player below to see everything as it happens, and if you catch anyone revealing any news or anything especially great, give us a heads up in the comments! The Dark Knight Rises, as everyone on earth surely knows by now, will be in theaters at last this Friday, July 20.
Your Daily Blend of Entertainment News
Staff Writer at CinemaBlend