Watch Emma Watson Making The Strangest, Most Beautiful Awards Speech In Movie History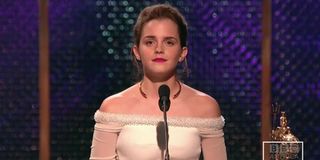 It's typical for a celebrity, basking in the glowing win of their latest award, to thank all the people who helped put them there. A great award speech never fails to mention the agents, the directors, fellow actors or the Weinsteins, who all contributed in some little way to the thespians' success. By now, Emma Watson should be a pro at taking to the podium to lavish this praise, but in accepting her recent Britannia Award for British Artist of the Year, the Harry Potter actress couldn't help but ramble about a very strange co-star that touched her heart… a dead hamster.
Watson recounted the tale of how her on-set pet hamster, Millie, had passed away during production of the first Harry Potter film. In honor of the deceased fur ball, the film's prop department built a hamster-sized coffin of mahogany, complete with a silver plaque reading "Millie," as a kind gesture that the actress remembers to this day. For her, it highlights how the "the British film industry hasn't just been a workplace for me… It's been the place that I grew up, it's been a surrogate family, really."
Other winners at this year's BAFTA L.A. ceremony were Mike Leigh with the directing award, Veep actress Julia Louis-Dreyfus for excellence in comedy, and Mark Ruffalo, who collected the humanitarian award. Their speeches failed to mention any kind of rodent, so you can just watch Watson in the above video, recounting her charming little story as she earns smiles from Judi Dench, Jane Seymour and Robert Downey Jr.
"Rest in peace," Watson concludes in the homage, going right for the gut. "Millie, this one's for you." By which we think she means, in a roundabout way, that she's grateful to the industry for being so welcoming.
As we all know, Emma Watson is a pro when it comes to making big impacts with her speeches. Just recently, while appearing before the United Nations in New York City as a UN Women Global Goodwill Ambassador, she let loose one of the most rousing #HeForShe feminist lectures, which quickly garnered support from all corners of Hollywood. Nay, the world!
Clearly Emma Watson needs to consider a second career as a speech writer because, let's face it, Hollywood needs her. That of course all depends on her finding time in her crazy busy schedule as a high-demand movie actress, fashion icon, defender of women and crazy hamster lady.
Your Daily Blend of Entertainment News
Thank you for signing up to CinemaBlend. You will receive a verification email shortly.
There was a problem. Please refresh the page and try again.