Watch Katniss Return To A Devastated District 12 In This Brutal Hunger Games Clip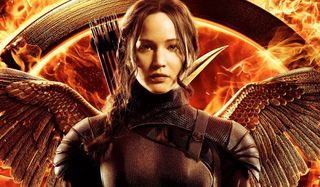 Real talk: did that vid give you chills? I got chills.
The Hunger Games: Mockingjay Part 1 picks up after Katniss (Jennifer Lawrence) was rescued from the Quarter Quell from revolutionaries who are looking to tear down the Capitol and its sinister ruler President Snow. But poor Peeta was left behind. Without her friend, Katniss is adrift, confused by a world that is changing so fast--and for which she takes the blame. But there's no time for this teen girl to take stock. War is brewing and she is at its center.
In the clip above we hear two voices talking about Katniss. The first is Plutarch Heavensbee (played by the late Philip Seymour Hoffman), the game maker of the Quarter Quell and inside man for the rebels. He tells us, "No else can do this but her." But the second voice doubts him.
"She won't be able to handle it." This is the voice of President Coin (Julianne Moore), the president of District 13, which was thought to have been decimated years before. "The games destroyed her," she coldly assesses.
To this Heavensbee, that master manipulator, says, "We need to make it personal for her. Let her see what the Capitol did to District 12." A trip to her hometown makes for a rude awakening. Introduced in The Hunger Games, District 12 was a mining territory that looked like a ragged town of the Old West, complete with dirt-smudged residents and the stink of poverty. Now, it's been completely leveled. Dust and ruins are all that remains of most of the place. But then we see Katniss return to the home she was awarded for surviving her first brush with the titular games as Lorde sings a mournful anthem.
Katniss's posh home is untouched. Cold. She gathers a picture of her father, and takes a moment to herself. Then, she sees those roses, the symbol of President Snow. And did you notice the red stained glass in the windows, foreshadowing a bloody conflict? This is going to be good.
It's hard to think of a movie marketing campaign that has been more imaginative or impactful as that of The Hunger Games movies. Lionsgate has let us relish in the beauty of the Capitol's callous glamour, given us gorgeous propaganda posters, chilling trailers, and now a subtle yet hard-hitting clip that delicately introduces Katniss's emotional state as she enters into the third film, while re-asserting that key conflict between a girl and the ruler of the world as she knows it. But of course, there's more here too. Even her allies want to use her.
The Hunger Games: Mockingjay Part 1 opens November 21st.
Your Daily Blend of Entertainment News
Staff writer at CinemaBlend.