The Hunger Games: Mockingjay Part 1 Unfurls Creepy Character Portraits Of Capitol Captured Peeta And Johanna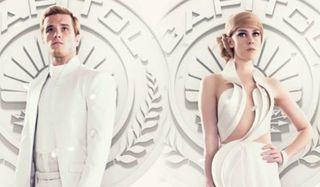 Poor Peeta. Despite Katniss's best efforts to keep him safe in the Quarter Quell, he was left behind in the arena when she was rescued by rebel forces. And now look at him. A gleaming symbol of Capitol propaganda. In this motion poster for The Hunger Games: Mockingjay - Part 1 Peeta looks healthy and unafraid. However, there's something sinister about his being rained down on by white rose petals. These and the all white wear--as well as the Capitol signet at his back--all tie to the influence of the cruel President Snow. But at least Peeta's not all alone.
Behold Johanna! The spunky Hunger Games survivor who stripped down in Hunger Games: Catching Fire goes nearly topless in her motion portrait, defying gravity and seemingly the revolt against The Capitol. Left behind in enemy territory as Peeta was, this portrait where Johanna looks high and stands tall begs us to wonder whether she's changed sides or just trying to stay alive.
These motion posters or "living portraits" are the latest inspired bit of advertising from The Hunger Games: Mockingjay - Part 1. On the site Capitol Couture fans can indulge in the class divided dystopia of The Hunger Games without having to fear the annual mass murder of neighborhood children. On the site, these living portraits are said to be demos of hologram displays that Capitol families can see in person. Could this be just world-building copy, or perhaps a hint of what The Hunger Games: Mockingjay - Part 1 might have planned for Comic Con? We know the first full trailer will drop near there.
The site also gives us some more details about where Peeta and Johanna find themselves in the next film. She is the toast of the Capitol and fashion plate with her Alon Livne gown, Alexander Wang shoes and hand-carved marble bangles by Chen Chen and Kai Williams. As for Peeta, his description reads:
These living portraits build on a chic and chilling ad campaign that has included District Hero portraits, like the one below:
Also in this crafty campaign are dispatches from President Snow. The first promotes Unity, while revealing Peeta as silent set dressing aside from a threatening Snow.
The second attempted a similar theme, but a signal disruption teases revolution.
The Hunger Games: Mockingjay - Part 1 opens November 21st.
Staff writer at CinemaBlend.
Your Daily Blend of Entertainment News
Thank you for signing up to CinemaBlend. You will receive a verification email shortly.
There was a problem. Please refresh the page and try again.