Watch Keira Knightley Fake An Orgasm In This Montage Of Classic Movie Recreations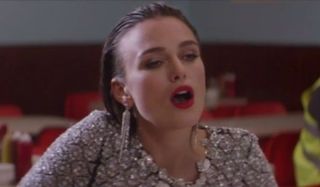 Keira Knightley's devotion to the pout has always dogged her career, but her recreation of one of the most famous scenes in movie history will have people forgetting all about her go-to facial position in a jiffy. The scene in question comes from When Harry Met Sally... and that's all you need to know. Enjoy!
Delightful. I think we can all admit that Keira handled that with aplomb. Even Meg Ryan would have been impressed. It's just a shame that we didn't get to see the Brit who played Billy Crystal's role. Surely Patrick Stewart was made for that part, no? However I think we can all admit that this homage was topped off delightfully by Dame Judi Dench's rather marvelous cameo. That was simply the cherry on top of the icing that was already on the cake.
This rather ingenious video was the last in a trilogy of clips that was created by Vanity Fair. Jason Bell directed them from an original idea by Guy Harrington to celebrate the fact that, well, the British are currently well and truly dominating Hollywood. Don't believe me? Then let's just take a look at the Best Actor Academy Award nominations to start off with. The Theory Of Everything's Eddie Redmayne is easily considered one of the front-runners for the Oscar because of his sensational turn as Dr. Stephen Hawking in the emotional biopic. Meanwhile, Benedict Cumberatch is settled nicely in amongst the other nominees too because of his performance in The Imitation Game. Even the actor that most people believe deserves to be there and isn't, Selma's David Oyelowo, is English. I'm beginning to see why he was snubbed: to save American embarrassment.
If you've got a spare ten minutes you should really click over to Vanity Fair to check out the trio of short pieces, titled Preparing For War, Coming To America and Victory Is Assured (which is featured above). They are packed to the brim with some of the greatest acting talent Britain has to offer. This includes Michael Caine, Benedict Cumberbatch, Clive Owen, James McAvoy, Jude Law, Jeremy Irons, Orlando Bloom, Sienna Miller, Felicity Jones, Sophie Turner and Kenneth Branagh. But they're not just sat there looking pretty. Oh no, they try their hand at performing several scenes from classic American movies too.
Narrated by James Corden, each piece is a downright hoot. But if you decide to give it a miss, I understand. Because by this point, you're probably tired of hearing Brits performing quintessential America roles. Not only did Christian Bale make Batman his own, but currently Brits are also playing Spider-Man and Superman too. In fact even Abraham Lincoln was played by an Englishman. For shame, America. For shame.
Your Daily Blend of Entertainment News