Watch Kristen Stewart and Nicholas Hoult In A Chilling First Look At Equals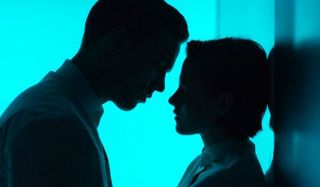 What are human beings without the influence of emotions? How does one express love when they don't even know what love is? Those are the types of questions that Kristen Stewart and Nicholas Hoult's new movie Equals attempts to answer.A new clip for the futuristic love story has been released on Indiewire, check it out below,
The clip is admittedly minimalist yet ultimately more powerful because of it. In a futuristic world, Silas (Hoult) enters a room to see Nia (Stewart) sitting alone, engrossed in an unspoken, yet obvious confusion over something she has begun to experience. Completely non-verbally – a minor twitch, or a prolonged gaze – Silas exhibits a potent yet stifled longing for Nia as she exits the room.
Even devoid of context, the clip has a haunting effect and could capably send a chill up just about anyone's spine. Without words, the actors convey a sense natural, yet forbidden lust that exists between the two characters. Equals is a dystopian sci-fi drama centering on the lives of Nia and Silas as they live in an advanced society that has banned emotions and traditional human relationships – diagnosing anyone who "feels" with SOS (Switched-On-Syndrome). Despite its futuristic setting, Equals ultimately tells a timeless story about star-crossed lovers that could exist in almost any time or place.
A textbook Orwellian work of fiction, Equals bears a great similarity to the 2002 action thriller Equilibrium – which is an adaptation of Fahrenheit 451. However, while both Equilibrium and Equals center on the concept of emotional suppression, they observe the matter through different tactics and means. Equilibrium's world suppressed emotions through government mandated drug use, and thematically focused heavily on the emotional impact that works of art and the natural world can have on a singular person. The universe created in Equals looks at emotion through the different – as well as currently more relevant – lens of mental illness (as SOS is a diagnosed disorder) and focuses heavily on the impact that emotions can have between two people.
Both Kristen Stewart and Nicholas Hoult have experience working on films that delve into the trope of forbidden love. Stewart became a household name for her somewhat controversial role in the Twilight franchise, while Hoult played a love-struck zombie in the 2013 romance Warm Bodies. Directed by Drake Doremus, Equals stars Kristen Stewart and Nicholas Hoult – as well as Guy Pearce and Jacki Weaver – and hits theaters this month.
Originally from Connecticut, Conner grew up in San Diego and graduated from Chapman University in 2014. He now lives in Los Angeles working in and around the entertainment industry and can mostly be found binging horror movies and chugging coffee.
Your Daily Blend of Entertainment News
Thank you for signing up to CinemaBlend. You will receive a verification email shortly.
There was a problem. Please refresh the page and try again.