The Burning World Review: Warm Bodies Book 2 Brings R And Julie Back For A Much Bigger Story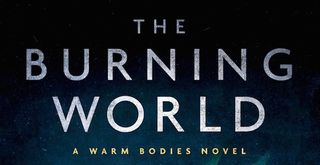 The Burning World is a sequel book to Isaac Marion's Warm Bodies. As such, some vague spoilers from the first book are referenced in this review. If you're considering The Burning World, but haven't read Warm Bodies (or at least, seen the movie) I highly recommend you read the first book. Assuming you already have, read on to hear my thoughts about the sequel...
Girl meets zombie. Zombie eats girl's boyfriend. Girl and zombie fall in love. Zombie begins to come back to life. And they all live happily ever after, right? Not so fast. Following up his brain-eating nod to Romeo and Juliet, Isaac Marion brings us back into the not-so-undead mind of R with The Burning World. At the risk of stating the obvious, R's story is far from over. In fact, The Burning World makes it very clear that we've only scratched the surface with this protagonist and his relationship with Julie. If Warm Bodies was a love story, The Burning World is an on-the-road adventure tale that takes our heroes -- along with some familiar characters and some new ones -- into the unknown, and dares to delve into their histories for better or worse. The journey is as uncertain as the post-apocalyptic reality Marion is painting, but with this book, momentum for a bigger, perhaps even more rewarding story begins to build.
Warm Bodies delivered R to us as a blank slate. He's a zombie with the faintest spark of life in him. Throughout that first novel, we saw that spark become a flame as R developed feelings for Julie. When the story left off, it seemed as though R and Julie were united and prepared to face whatever the future held. There's a sense of optimism between them, and in the love they shared. The Burning World puts that love and optimism to the test, as R and Julie find themselves on the road with an uncertain purpose. What's more, that tabula rasa that is R's mind turns out to be a bit less rasa than we thought. The question then becomes, is R -- and are we -- really prepared to learn the truth about his past? That's a choice you'll need to make before you pick up this book, because things unfold, as both Julie and R have baggage that needs to be explored. I won't go further than that here (no spoilers!), but it would be an understatement to say that there's a lot brewing beneath the surface of R's mind.
The Burning World is not really a love story. Or maybe it's more accurate to say that it is a love story, but it's not a romance. The distinction seems important here, as R and Julie's relationship remains ever present, and yet, isn't the primary focus of this installment. The falling-in-love part of love may be the stage most movies and books prefer to tell, but a real relationship happens when two people start to see beyond the surface of each other. The curtain is lifted and the truth of who they are is exposed. This story begins with Julie and R determined but struggling to pursue their happily ever after. Their efforts are short lived, as events transpire that force them to leave the stadium behind. From there, it's a matter of survival and figuring out where they should be going, as a looming threat pursues them at every turn.
While Warm Bodies was a relatively self-contained tale, The Burning World feels more like a restart for a much bigger story, and one that's barely unfolded by the time we get to the last chapter. The shift in pace and focus is a bit jarring at first, as The Burning World is almost a complete re-introduction to the characters, with less focus on zombies and Julie and R's relationship, and more on the bigger picture of the world outside and the driving forces behind the choices Julie and R must make. Make no mistake, all of the returning characters are true to likable form, but what they're facing is far less familiar, and it allows us to understand them all the better as this story progresses.
For all its strengths, The Burning World feels very much like the middle of a story, and for good reason, it would seem. From a post Isaac Marion did back in the fall of 2015, it sounds like the sequel that was intended to be one book got so big that they decided to split it into two books (The Burning World and coming later, The Living.) So, expect to be left with more questions, and plenty of anticipation for whatever's to come.
With The Burning World, Marion delivers an ambitious post-apocalyptic adventure that boldly explores some of the hard truths of these characters, while also building up to what will hopefully be a very satisfying conclusion. Amidst some of the reveals and truly suspenseful and emotional moments, The Burning World offers deeper, richer insight into this expanding post-apocalyptic world, while also teasing bigger things to come for these characters.
The Burning World arrives February 7. Get it here. And if you haven't read it yet, Isaac Marion released an ebook a few years back called The New Hunger that gives us a bit of background on Nora. It's well worth a read.
Your Daily Blend of Entertainment News
Assistant Managing Editor
Kelly joined CinemaBlend as a freelance TV news writer in 2006 and went on to serve as the site's TV Editor before moving over to other roles on the site. At present, she's an Assistant Managing Editor who spends much of her time brainstorming and editing feature content on the site.