What Kristen Stewart Actually Thinks Of Twilight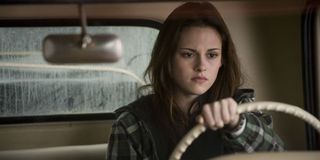 Though the overall critical response to The Twilight Saga was fairly negative, there is no denying that it was a serious box office hit. The five vampire romance fantasy films grossed over $3.3 billion worldwide, breaking box office records left and right with each new release and the two leading actors Robert Pattinson and Kristen Stewart became celebrity superstars. But, their stardom did not come without some major criticism along the way. And most criticized out of the entire franchise was definitely Kristen Stewart, who despite all the negativity surrounding her acting, has admitted that she's proud of the films.
Can someone make sure Kristen Stewart is alright? Her time in the franchise is long over, there is really no need to pretend anymore, but I digress. The awkward, lip-biting Bella Swan, did have her fans, and her haters, so in a recent interview with Patti Smith for Interview Magazine it was only natural that the character come up. The vamp-loving teen was by far Stewart's most recognized role, so when Patti Smith admitted that she loved Stewart's work in the Twilight films, Stewart responded:
I have to believe that this response came because Patti Smith complimented the role, and Stewart just decided to play along because, I mean, this is Patti Smith we are talking about. You don't disagree with the artist, author, poet, rockstar, legend (who clearly hit her head before the interview). But, maybe Stewart is proud of her role. It surely made her boatloads of money, and reach the ultimate celebrity fame.
But, Stewart's film choices lately seem to suggest that she wants to stray away from the big blockbuster flicks. After a quick break following the release of The Twilight Saga: Breaking Dawn - Part 2, Stewart went on to appear in much smaller independent films including Camp X-Ray, Clouds of Sils Maria and most recently Still Alice alongside Julianne Moore who is up for a Best Actress Oscar for her titular role in the film. Stewart recently admitted that she wouldn't leave the idea of big budget films completely out of mind, suggesting that she would love to play a role in a Marvel movie, specifically Captain America.
We're not sure that could ever come to fruition though, especially because the comic book fan base isn't as friendly with the Twilight fanbase after the films caused major chaos at Comic Cons nationwide. But, at least Stewart is humbled by her experience, and proud of its intention. Whether or not you enjoyed the films, you can appreciate the hard work that the actors put into such a big franchise like Twilight. And, as Stewart herself has even acknowledged, she's trying to broaden her resume and take roles that can show that she can be more than just a 'Kristen Stewart' character.
Your Daily Blend of Entertainment News