Kristen Stewart: 8 Reasons She's Actually Really Awesome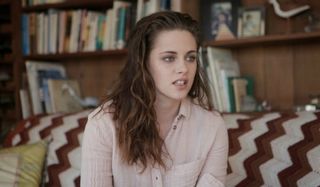 The mixed reactions people have when you mention the name Kristen Stewart are astounding. Some love her, some hate her, and some just think of her as that 'chick from Twilight'. But despite the way tabloids often paint the actress, she's definitely not going anywhere. She clearly enjoys her job, and has been doing in it for a long, long time now. At a mere 25 years old, Kristen Stewart has already been in over 30 films ranging from David Fincher's Panic Room to Sean Penn's Into the Wild to Greg Mottola's Adventureland to Rupert Sanders Snow White and the Huntsman. Her name travels into much further corners than just the Twilight franchise, though Bella Swan tends to be the recognizing role of hers.
Kristen Stewart has spent most of her career working on indie films aside critically-acclaimed actors, but now the actress is starting to take center stage. Stewart has been carefully crafting an interesting career after her days on the Twilight set, and it's building up to be something of note. We can't tell quite yet where it is going, but for all those out there that still need convincing she's someone to look out for, here's 8 reasons she's actually really awesome.
She's The First And Only American Actress To Win A Cesar
Americans are often making fun of Kristen Stewart rather than praising her for her acting abilities. That's not the case in France though. Aside from Twilight, Kristen Stewart has been mainly an independent movie actor, and she's been in a lot of them. After Twilight though, her choices become a bit more selective, and the actress started to seem like her skills were growing. Well France decided that she was on her way up, and worthy for a Best Supporting Actress nomination for her performance in Olivier Assayas' Clouds of Sils Maria. And not only was she nominated for a César (the French equivalent of an Oscar) in the category, but Stewart actually took home the win, deeming her the first and only American actress to win a César award.
She Landed Her First Film Role At 9 Years Old
After an agent saw Kristen Stewart perform in an elementary school play at 8 years old, it was on. Stewart auditioned for a year, got a couple small roles one in a Disney Channel movie, the other in The Flintstones in Viva Rock Vegas but at age 9 she gained her first real film role playing a tomboyish daughter of a troubled single mom in Rose Troche's The Safety of Objects. The role of a tomboy was one Stewart often received, and as she's explained in many interviews, it was a role true to her own life. But to Stewart, that was the perfect time to start acting, before any insecurities set in. She told Vogue:
She Replaced Hayden Panettiere In Panic Room
Kristen Stewart started acting at a very young age, but was most impressive was the roles she was gaining. In only her second film debut, she starred in David Fincher's 2002 film Panic Room alongside Jodie Foster. Foster and Stewart's pairing were on point, both very tough, smart women. Stewart was only 10 years old when filming the movie. But, Stewart actually wasn't even supposed to be in at all. Originally the mother-daughter pairing was between Nicole Kidman and Hayden Panettiere. The two left the project and eventually Stewart stepped in. What makes this move so substantial was not only that it set Stewart as a talented child actor, but also in the director's commentary, Fincher refers to Hayden Panettiere's version as too girly and annoying. Stewart would go on to be the complete opposite of that in most of her roles to follow. She was clearly what Fincher had wanted for the role.
She Wanted To Be The Youngest Director
Kristen Stewart grew up in the film industry. Her parents both worked in the industry, her father a television producer and her mother a script supervisor. Being on set all the time, made Stewart want to be an actor, but in an interview for Interview Magazine, she explained that her desire to be an actor was really because that's all you could do as a child in that setting. She really wanted to be the youngest director:
She's Proud Of Her Work On Twilight
Much of the time when an actor has taken a role in the past that they got a lot of slack for, they often dismiss it as a mistake--not Kristen Stewart. Despite often being labeled as 'that girl from Twilight' while trying to take her career more seriously, it'd be easy to dismiss Twilight. It would probably make it easier for the actress, truthfully. But Stewart is proud of her work on the sappy teen romance, and she knows it got her where she was today. She explained in Interview Magazine:
She Learned How To Play A Stripper By Being A Stripper
By the time Kristen Stewart had reached 18 years old she almost had 20 films under her belt. To mark moving into adulthood though, the first film she chose to shoot as a legal adult was Welcome to the Riley's, the story of a troubled teen turned to stripping and a lonely man who decides to help her. Stewart's role, the young stripper, was a totally different movie than the young actress was used to. At the time, aside from Bella in Twilight she was also known for her role as the hippie chick daughter in Sean Penn's Into the Wild. So playing a stripper required research, research that Stewart did not take on lightly. The actress told Entertainment Weekly that she started spending time at a run-down strip club in New Orleans called Dixie Dives watching, and eventually learning how to gyrate around a pole:
She's Written Her Own Film
Kristen Stewart enjoys film for the right reasons. She enjoys acting as an art form, and for many takes it far too seriously, but she certainly doesn't hold back her passion for it. She not only acts, but also writes poetry, short stories, and even a short film. In an interview with Wonderland Magazine Stewart explained that she was a big fan of John Cassavetes, a pioneer of improvisational filmmaking, and something Stewart wants to explore. She's written her own short film, but she's just in the experimental stages right now:
She Really, Really Hates Paparazzi And Tabloids
Kristen Stewart is not going to be taking a selfie anytime soon. And she probably won't be smiling on the red carpet either. Call her too intense, but in reality, she's just done trying. In a world where social media can expose a celebrity's every move right as it happens, it becomes hard for those (and some are) who don't like the limelight. Kristen Stewart has said time and time again that she loves acting, but she doesn't have the stereotypical personality that goes along with it and she's not afraid to point it out. She told Vanity Fair:
Your Daily Blend of Entertainment News
Your Daily Blend of Entertainment News
Thank you for signing up to CinemaBlend. You will receive a verification email shortly.
There was a problem. Please refresh the page and try again.