Watch Marty And Doc Brown Reunite In The Best Back To The Future Tribute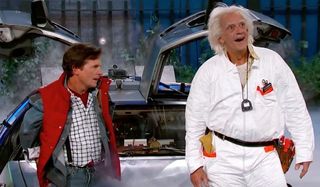 In case you didn't notice from all the Back to the Future "then and now" photo galleries, "what BTTF successfully predicted about 2015" features, the debut of self-lacing Nike high-tops, and the seemingly endless appearances from the original cast, yesterday was Back to the Future Day — in other words, the date Marty and Doc traveled to in their time traveling DeLorean. Among all the festivities — both online and in the real world — cast members Michael J. Fox and Christopher Lloyd reprised their famous roles just for Jimmy Kimmel Live. Check them out below.
If you have 10 minutes to spare today, it's worth a look. As the stage lights began to flicker, Kimmel's introduction was interrupted by Marty and Doc riding into the studio in their DeLorean surrounded by some of that dramatic fog. The audience erupted in a standing ovation of cheers and excited screams as they stepped out of the vehicle. Of course, it wouldn't be a Back to the Future reprisal without Lloyd's famous "Great Scott!"
They were instantly in character as if they just stepped out of the DeLorean after the events of the original movie. But instead of witnessing a futuristic world, they saw 2015 for how it really was: Jimmy Kimmel's talk show. They didn't quite understand it all, though. First of all, there are no flying cars, which seems odd because any reasonable person would've guessed that the future would have flying cars. Second, there's no Johnny Carson, which threw Doc for a loop. Third, there are no hoverboards, despite what anyone on YouTube would like to think; and, fourth, there is definitely no peace in the Middle East. But there is one thing: the Cubs are in the playoffs! (Well, they still were at the time that the skit aired.)
"Doc, it seems like 2015 kinda sucks," Fox said, as Kimmel whipped out his smartphone to look up a picture of a Cronut. It does seem he has a point, which Lloyd echoes in character — the technological advancements are pretty lackluster. If Marty and Doc can crack time travel, then why can't scientists in this day and age at least do the same? It can't be that hard, right?
This year also marks the 30th anniversary of the Robert Zemeckis film, in which Marty travels back in time to the '50s from the '80s. Two sequels were made, but Zemeckis promises there won't be any more. Neither will there be a remake or reboot if he has anything to say about it. The filmmaker remarked earlier this year that a remake would only happen if he and his co-writer Bob Gale are dead.
Your Daily Blend of Entertainment News
Thank you for signing up to CinemaBlend. You will receive a verification email shortly.
There was a problem. Please refresh the page and try again.