Watch Paul Dano Get Repeatedly Beaten Up In New Supercut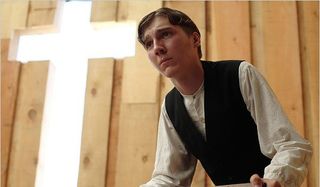 Paul Dano is one of the most compelling and intriguing actors of the modern era, and in the process of developing an eclectic and impressive CV thanks to his thoughtful and meticulous choices. It also turns out though that he's got a face that you just want to see get punched and beaten up… which is something that happens to him an awful lot in his movies. Just check out this nifty little video, which documents all of the times that Dano has been on the receiving end of a beating, and taken it with aplomb.
I'm not sure what I love more: the delightful video itself, or the fact that the person who created decided to use the YouTube about section to apologetically insist, "Love you Paul."
Fair play to Paul Dano though, because each of these assaults are completely different, and he manages to make the receiving of each of them unique and deeply rooted in the character that's being wailed on. Take for example, the pathetic nature that his 12 Years A Slave character John Tibeats reacts when Chiwetel Ejiofor's Solomon Northup gives him the whooping that he so thoroughly deserves.
Dano's Tibeats is a bona-fide racist, and one of the most despicable, ignorant and yellow-bellied individuals to ever be depicted on screen. And when he's overwhelmed by Solomon Norhtup, who delivers blow after blow before then turning on him with his belt, there's a genuine terror and feebleness to his reaction that you can't help but snigger at. Especially when he manages to cry out through his veil of tears, "You will not live to see another day."
Looking through the cavalcade of actors who have rained down punches and kicks on Paul Dano throughout his career, you can't help but be impressed. Just look at Cowboys And Aliens. Yeah, Jon Favreau's sci-fi western ultimately proved to be an unfulfilling mishmash of failed ideas and tepid action, but at least Dano got to be kicked in the nuts by James Bond himself, Daniel Craig.
But that's not all. Because in Prisoners Hugh Jackman a.k.a. Wolverine, and Terrence Howard, the original War Machine until Marvel decided they wanted Don Cheadle instead, spend several days beating Dano's Alex Jones. Heck, even Paul Dano's real-life girlfriend Zoe Kazan couldn't resist the allure of beating her beau when the pair teamed up in Ruby Sparks.
Despite these impressive bouts that Paul Dano continuously ended up on the losing end of, I think we can all admit that his greatest ever defeat came at the hands of Daniel Day Lewis throughout There Will Be Blood. I haven't been able to go bowling since. Paul Dano will next be seen playing Brian Wilson in the eagerly awaited biopic Love and Mercy, and while it's unlikely that he'll get physically beaten in the film, mentally he's going to go through some torture.
Your Daily Blend of Entertainment News
Your Daily Blend of Entertainment News
Thank you for signing up to CinemaBlend. You will receive a verification email shortly.
There was a problem. Please refresh the page and try again.