Watch The SNL Cast Hysterically Beg Michael Keaton To Reprise Batman And Beetlejuice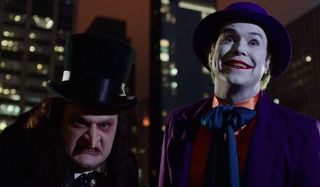 Last night Michael Keaton returned to Saturday Night Live after not having hosted for over two decades. As many of us were expecting the highly-respected actor reprised two of his most iconic big screen characters, Batman and Beetlejuice, after being begged by a few SNL fanboy cast members — although it didn't go quite as you may think.
As you can see in Michael Keaton's opening monologue above, the actor appeared pretty thrilled to be back on the stage he first graced back in 1982, then again in 1992, the latter following the release of his film Batman Returns. That said, it took less than a minute for Taran Killam and Bobby Moynihan to squeeze in on each side of him and break into song, in an attempt to get the Birdman actor to reprise his roles as Batman and Beetlejuice. While the songs weren't necessarily all that funny, Killam and Moynihan nailed the parts of geeky Keaton fanboys and made the first half of the segment a whole lot funnier than it could have been as they pulled out every stop to make their dreams a reality — even the "birthday" card and the "six months to live" card.
The SNL skit really lit up after the duo realized Keaton had no intention of reliving his old characters just to fulfill their fantasies, at which point they admitted they preemptively took matters into their own hands, revealing their self-made video. Although it never crossed my mind prior to last night's reveal, Moynihan and Killam undoubtedly make for killer renditions of The Joker and Penguin.
As excellent as their makeup and personas were as the Batman villains, the best big laugh of the monologue came at the reveal of Keaton in his unauthorized CGI Batman costume. Just look at those visual effects!
Better yet was his unapproved rendition of Beetlejuice. The tapping away on the cellphone really tied the character together.
In the end, Keaton was even a good sport about the whole thing, getting into character at least vocally to utter the Caped Crusader's iconic words "I'm Batman" and The Ghost With The Most's "It's showtime." For Killam, who's played a hilarious Peanuts version of Keaton in A Charlie Brown Christmas back in 2013 and a Birdman Keaton/Rudy Giuliani hybrid, it probably doesn't get much better.
Your Daily Blend of Entertainment News
Thank you for signing up to CinemaBlend. You will receive a verification email shortly.
There was a problem. Please refresh the page and try again.