Watch Seth Rogen And The Night Before Cast Open The Perfect Christmas Presents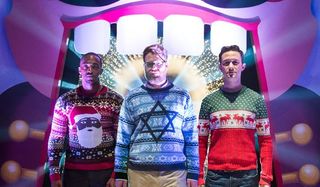 Now that we're approaching the end of the year, the gift-giving season is upon us. It's a time when we think about the people in our life who make us happy, and offer meaningful tokens to them as a way of saying thank you. Because of the upcoming release of the tremendously funny movie The Night Before, I recently found myself feeling very appreciative of the work from Seth Rogen, Joseph Gordon-Levitt, Anthony Mackie, Jillian Bell and Ilana Glazer, and I decided to celebrate this by handing out a few special presents during a recent interview:
This past weekend, I attended a special press day for The Night Before, sitting down on camera with the aforementioned stars, and feeling inspired by the holiday spirit and the hearty laughs from the film, I wrapped up a few gifts to pass out while I asked the actors questions. Rather than going the fruit cake/sweater route, however, I tried to make each of the individual gifts as special as I could. So what did I get them? The rundown is below:
Getting cash isn't the best gift during the holidays, as it sends the message that the gift-giver really didn't bother putting too much thought into it, but Joseph Gordon-Levitt did seem to appreciate the fictional money I got for him as his present. In Looper, hitmen like Gordon-Levitt's character are paid for their various jobs in specially inscribed silver bricks, and I got one (albeit one made of resin) for the actor. I was a bit nervous about it, as I had spray-painted it the previous night and was concerned that his hands would be entirely silver by the end of the interview, but not only did that not happen, he even went as far as to confirm that he has plans to actually hold on to it.
Anthony Mackie has become a fan-favorite in the Marvel Cinematic Universe thanks to his portrayal of Sam Wilson a.k.a. Falcon in Captain America: The Winter Soldier, The Avengers: Age of Ultron and Ant-Man - but his character is actually going through some even more massive changes in the comics, taking the mantle as the brand new Captain America. With this in mind, I decided to do some comic book shopping – and while I had to hit multiple stores, I was eventually able to find Mackie the first two issues of the new series, "Sam Wilson: Captain America." Hopefully it will not only be fun reading material for now, but perhaps issues to look back on a few years down the road when the MCU needs someone new to hold the shield…
While most of my gifts for each of the actors were largely random references to other movies and television shows they're involved with, my present for Jillian Bell wound up being a bit more tied into The Night Before. In the film, her character gives her husband a big ol' box of drugs that he can enjoy throughout the evening – so I decided to give her some "drugs" in return. In 22 Jump Street, Bell played a college-aged kingpin dealing a designer drug called "WHYPHY," and so I recreated a few baggies to give to give the actress (fully authentic with movie-copied skull logo and gummy bears inside!). This turned out to even be a gift that could be shared, somewhat making it even more in the spirit of the holidays.
I thought about a bunch of different ideas for Seth Rogen, contemplating little props from movies like The Interview or Neighbors, but ultimately I decided to go with something from a project that we haven't actually seen just yet. Next spring will finally see the release of the new AMC series Preacher, and given that Rogen is a huge fan of the Garth Ennis/Steve Dillon comics, and an executive producer on the show, I got him a "Fuck Communism"-inscribed Zippo lighter – just like the one carried by lead character Jesse Custer. Not only did Rogen appreciate the reference, but it seems that it will be a practical gift as well, given that Anthony Mackie says his co-star is always losing lighters.
Ilana Glazer's resume isn't quite as deep as some of her Night Before co-stars, but I was still at a bit of an advantage given that I'm a huge fan of her Comedy Central series Broad City. I thought back on the first two seasons of the fantastically funny show, and eventually got my inspiration from the finale of Season 2 – titled "St. Mark's." In the episode, Glazer's character, Ilana Wexler, is celebrating her birthday and is totally bowled over after spotting a wig shop (noting that she has great "wig face" and that she wishes to be buried wearing one). Living in L.A., I couldn't quite make it all the way to St. Mark's Place, but I went with the most colorful wig I could find to try and make up for it.
Overall, the gang definitely seemed to enjoy their presents, they revealed some great stuff about the making of The Night Before, and all-in-all it came together as a fun interview with the stars. Now all that's left is for you to go see their new movie in theaters November 20th… which you should definitely do.
Assistant Managing Editor
NJ native who calls LA home and lives in a Dreamatorium. A decade-plus CinemaBlend veteran who is endlessly enthusiastic about the career he's dreamt of since seventh grade.
Your Daily Blend of Entertainment News
Thank you for signing up to CinemaBlend. You will receive a verification email shortly.
There was a problem. Please refresh the page and try again.