We Can Thank Blade For The Creepiest Comic Con Event Ever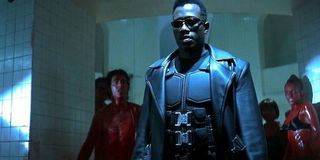 If you've ever watched the opening scene in Blade—where an underground cadre of young vampires have what can only be described as a "blood rave," where blood rains down on the dancers from the sprinkler system to the throbbing, bass-heavy beat—and thought, "You know, that looks like fun," today is your lucky day.
Fact Magazine reports that, at New York Comic-Con this year, which actually takes place in just a few weeks, falling between October 8 and 11, there will, in fact, be a blood rave for you to experience first hand. I'm going to go out on a limb and say that they probably won't use real blood, for logistical and health reasons, and, you know, gross, but don't quote me on that, as specifics are a bit sparse at this point.
Blood Rave, as the event is accurately called, will go down on the Saturday of NYCC, October 9, at New York's Terminal 5, and will feature the Brooklyn-based electronic act Pictureplane, though heavy hitters The Crystal Method will be the headliners. Be glad you're not part of the Terminal 5 clean up crew scheduled for October 10. Unless you are, but then you might want to call out sick that day.
Just in case it's been a while since you've watched the 1998 comic book adaptation about a vampire hybrid who is unaffected by sunlight, here is the scene in question. I imagine if that was real blood, not fake Hollywood blood, the whole situation would be a much stickier affair, but I'm going to try not to think about that too hard.
In addition to the loud, pulsating music, what is sure to be a no-expenses-spared light show, and some sort of faux blood raining down from the ceiling, there will also be a place to chill, hopefully with some sort of plastic covered seating arrangements or nonporous surface. This hang out space will also have a Blade theme, as it will be modeled after the apartment of the villainous Deacon Frost, played by Stephen Dorff, the main baddie from the film. He does have a pretty sweet pad, even if there's not much in the way of natural light to be found.
Wesley Snipes isn't one of the guests scheduled to appear at NYCC this year, but who knows, maybe he'll get bored and make an undercover cameo appearance at Blood Rave. He's certainly talked a lot recently about reprising his role as the black-clad vampire hunter.
Your Daily Blend of Entertainment News
Thank you for signing up to CinemaBlend. You will receive a verification email shortly.
There was a problem. Please refresh the page and try again.