We Wouldn't Have Birdman Without These 7 Classic Movies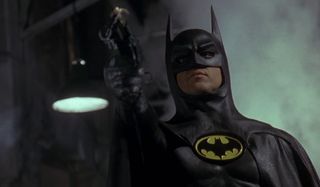 This weekend saw the expansion of Birdman, a critically heralded comedy that's been tearing up the indie box office and spurring early Oscar talk. With more of you having had a chance to see what all the buzz was about, we thought today would be a great time to dig into the inspirations that made this thoroughly modern and wildly fun movie everything it is. Basically, what movies helped Birdman take flight.
But be warned, the deeper you go into this feature, the more spoilers lurk ahead.
Batman
Michael Keaton has been pulling in scads of praise for leading Birman's insane ensemble as Riggan Thomson, a washed up movie star best known for fronting a series of superhero movies in the 1980s. Where Thomson had Birdman, Keaton--of course--had Batman, a role that radically changed his casting niche and career legacy forever. Before Batman, Keaton was largely known as a comedic actor thanks to turns in Mr. Mom, Johnny Dangerously and Beetlejuice. But while he walked away from the Batman franchise after Batman Returns, it is still the most popular film in his filmography. Even though Keaton has publically insisted he doesn't share Riggan's relentless thirst for recovering his heyday fame, their shared histories give Birdman a distinctly meta appeal.
Rope / Russian Ark
When word got out that Birdman was being presented predominantly as one continuous take, comparisons were instantly drawn to the most famous film to attempt this maneuver: Alfred Hitchcock's Rope. Like Birdman the film is set predominantly in one location, but the technology of the day made for some very clunky cuts to allow for the continuous feel. This might well be why Birdman director Alejandro Gonzalez Inarritu has been shying away from this comparison, going so far as to call Rope "a terrible film." He'd much rather movie-lovers see his film's technical inspiration as Russian Ark, the Alexander Sokurov film set in the Russian State Hermitage Museum and shot as if in a single take. Inarritu called that film, "so beautiful" that he almost cried at the end.
Noises Off…
Much of the action of Birdman happens in and around the St. James playhouse in New York City's iconic theater district. There, Riggan (Keaton) and his cast mates (Naomi Watts, Andrea Riseborough and Edward Norton) are putting on a stage production that will make or break the former Birdman's career. The continuous camera bobs and weaves, following the play's actors and crewmembers onto the stage and behind-the-scenes revealing all kinds of shenanigans and secrets. Watching the mayhem unfold on stage and off will likely call to mind this showbiz comedy, inspired by the hit Broadway show about the antics of a theater company always on the brink of catastrophe. Both are bitingly funny while shining a spotlight on an industry that seems to be only for the very talented and deranged.
The Criminal Life of Archibaldo De La Cruz
Birdman begins with a shot we've seen teased early on of Riggan (Keaton) meditating in his underwear in his dressing room while levitating. This is just the beginning of strange powers we see this has-been possess, chief among them the ability to move things with his mind. When an actor Riggan loathes is injured in a freak accident right before his eyes, Riggan believes his mind made it happen. While that might sound like an insane power trip, it's actually the premise of the 1955 Luis Bunuel film named above. The Criminal Life of Archibaldo De La Cruz follows a man who believes his evil wishes manifest into murder. But, interestingly, the filmmaker leaves it up to the viewer to determine whether Archibaldo truly has these powers, or whether he is taking credit for coincidence.
Dance, Girl, Dance
Birdman is a showbiz satire that offers up criticisms of actors, producers, writers and critics. But don't think the audience is left out. In a pivotal moment in the third act, Riggan gives a monologue to both his diegetic and nondiegetic audiences, both staring at him and judging his every move. It's a moment formerly performed by Maureen O'Hara in the the 1940 drama Dance, Girl, Dance, directed by Dororthy Arnzer. The film follows an aspiring ballerina who is forced into a career in burlesque, where her dancing is ogled rather than admired. In the film's climax, she's had enough and delivers a scathing speech to tell off not just those leering at her in the theater within the film, but also those of us scoping her out in the movie theater.
Brazil
For the whole of Birdman, we watch Riggan struggle with what might be superpowers, or might be delusions. But in the final act, Riggan takes a leap of faith--both literal and metaphorical--and flies. Though Alejandro Gonzalez Inarritu chooses not to show us his flight, we are granted a look at the reaction of his daughter (Emma Stone) in pure awe-- as seen in the trailer. Have his fantasies of power become reality? This is the question we're left with--just as we were with Terry Gilliam's Brazil, which notably also featured a flying man. Though admittedly alternate edits of that dystopian classic muddy the waters on the film's "true" reading.
Birdman is now in theaters.
Your Daily Blend of Entertainment News
Staff writer at CinemaBlend.